A Love That Lasts a Lifetime
By Jules Van Mil
If you'd like to find a hobby that develops your child's physical, social and creative skills, learning to sew is the perfect activity. Sewing provides the perfect opportunity to develop skills that last a lifetime.
Cutting fabric, threading a needle and hand stitching helps promote fine motor skills and hand-eye coordination, critical to child development.
A hobby, such as sewing, teaches you to be patient and to follow instructions. When children are sewing they don't realise how much they're actually learning. To them, it's just fun.
Have you ever been part of a sewing group? Each person works on an individual task, while sharing in the camaraderie that comes with a group activity. For children who are socially reserved, sewing in a group makes them feel included. It's lovely to see children sitting around a table engrossed in sewing. They get such a thrill from making something and this helps to build self-esteem and confidence. Children will share ideas, equipment and help one another out.
Best of all, you don't need to spend a fortune to start sewing—sewing needles, thread, fabric scissors and material are all that's needed. Children are naturally creative and it doesn't take long before they start coming up with their own ideas. Once a child masters the basic running stitch, they can sew just about anything. Sewing can be enjoyed on an intergenerational level. My own mother was not a sewer at all, but she encouraged me to learn. It was my grandmother who knew how to sew. First, I learnt how to hand stitch and then spent hours on her machine sewing up and down pieces of fabric. She taught me about stitch length, how to thread up the machine, fill a bobbin and change the sewing needle, and gave me my first sewing box, which I still have.
My love of sewing eventually lead to a career change. After studying design and pattern-making, I worked in the fashion industry, first as an assistant designer and then on the teaching staff at the Whitehouse Institute of Design. I eventually opened my own design studio, a Couture Bridal Wear business in Sydney.  After selling the business I turned my attention to writing, something I'd wanted to do since I first started teaching.
In 2018 I signed a two book publishing deal with Pan Macmillan Australia for my middle-grade series. The main character, Gemma Riley, is a highly creative 10-year-old girl who lives on the twelfth floor of her grandmother's fashion house, the House of Bonafete. Gemma's resourceful nature and her belief in, 'doing a lot with a little', helps save her grandmothers fashion business from ruin. The book also includes instructions on how to make the same items Gemma and her friends create—a fabric friendship heart and bag, a fashion storyboard and customised sneakers.
Creatively, I've come full circle. I've drawn on my experiences as a teacher, designer, patternmaker and machinist in creating the world of Gemma Riley. I hope Gemma inspires young readers to pick up a needle and thread. They just might discover a love that lasts a lifetime.
Click the images to download instruction sheet and templates!
---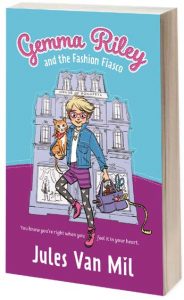 Jules van Mil is a teacher, women's wear designer and author of Gemma Riley and the Fashion Fiasco, Pan Macmillan, RRP $16.99