New competition for Australian youth set to raise the literary voice of 'Generation Next'.
A new writing competition is set to stir the imagination of budding young writers between the ages of 12-18 years, with the launch of Little Stories, Big Ideas, a quarterly micro fiction challenge where entrants write stories in 100-words or less, against themes topical and relevant to today's youth.
Little Stories, Big Ideas is the brainchild of Mornington Peninsula author, Joe Novella, a keen advocate for the creative expression of young adults. As founder of the international Write From the Heart microfiction competition, Joe knows the formula for Little Stories, Big Ideas will be well received by kids, parents, and the secondary school community. "Australia has a wealth of talented kids of every ability, background, and demographic, who have strong opinions on the things that matter to them," says Joe. "Little Stories, Big Ideas is the ideal platform for them to creatively explore and interpret important issues."
Joe has partnered with local author and StoryCraft Creative Writing Workshop facilitator, Rebecca Fraser, to help deliver Little Stories, Big Ideas to the Mornington Peninsula and beyond. "I was thrilled when Joe approached me with his vision," says Rebecca. "I work with many aspiring authors in this age range, and I'm continually impressed by their enthusiasm for new ways to approach writing. Little Stories, Big Ideas gives them the opportunity to flex their writing muscles and have their say, along with the chance to win some terrific prizes."
Little Stories…big prizes!
To encourage participation and add to the competitive spirit, there are some terrific prizes on offer for winners and runners-up, donated by local businesses and organisations. "We've been blown away by their generosity," says Joe. "Already, we're able to offer $100 as part of the first prize, along with a fantastic prize pool offering memberships, gift vouchers, products, and services. We're so appreciative of the community's support of Little Stories, Big Ideas."
Joe and Rebecca have officially launched Little Stories, Big Ideas for Term 1, with free submission and complete guidelines via the website. The competition will run four times per year to coincide with the school calendar.
"Rebecca and I both believe kids have a lot to say about the world in which they live," says Joe. "With Little Stories, Big Ideas we hope to inspire and encourage the next generation of storytellers."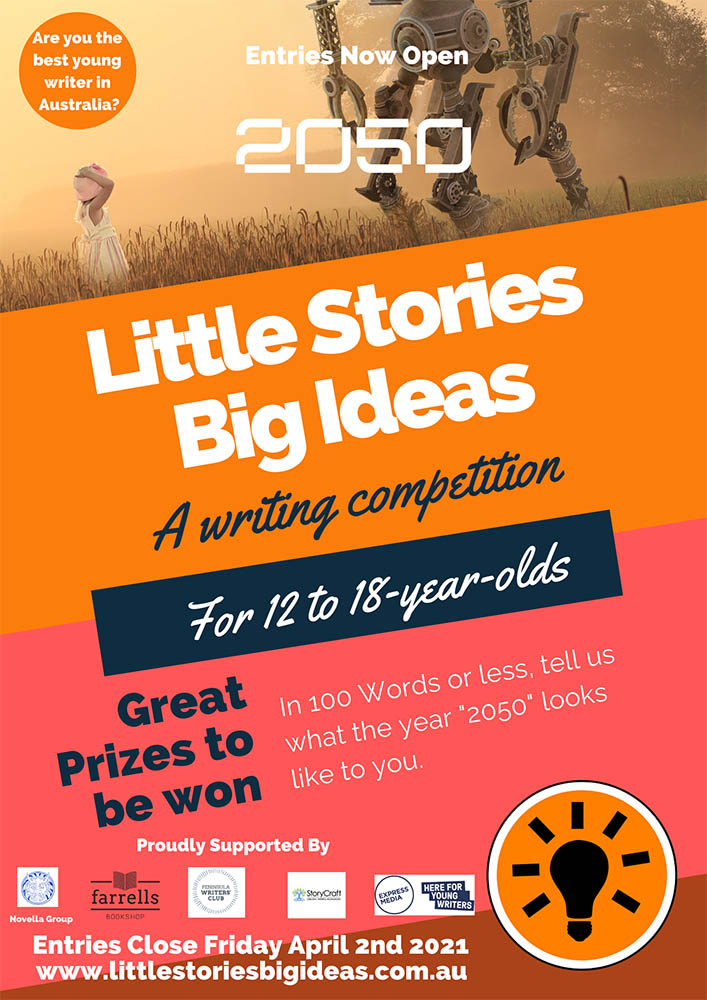 For more information about
Little Stories, Big Ideas,