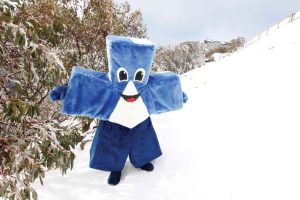 By: ROSS TAYLOR
A family trip to the snow is a wonderful experience for children. It really is a magical world in the mountains when snow is all around, there are snowballs to throw, snowmen to build, a nip in the air and the excitement of learning to ski or snowboard.
Kids are usually eager to give skiing and snowboarding a try and as an instructor it's incredibly satisfying to see them master the basics and witness those enormous smiles when they first slide on skis.
If you are thinking of introducing your child to snowsports the ski and snowboard school should be your first port of call. They will learn in a safe and fun environment and be helped every step of the way by friendly and qualified instructors. It's fun for the kids, and importantly, it's a relief for parents who can relax knowing their kids are in safe hands.
Children as young as 3-years-old join our Ski & Snowboard School at Mt Buller and it's amazing to see how quickly even small children can learn and enjoy their time on the snow. They are often skiing rings around their parents in just days and thrive in classes with children of the same level. 
It's often a good idea to start children on skis. Having that stability across both feet helps but there is plenty of customised snowboarding equipment for kids available so if your family are snowboarding just ask at the Ski & Snowboard School as they will have class or private lesson options on offer.
A private lesson may seem expensive but it's hard to beat the difference of one-on-one instruction. Your child can have their own personalised lesson tailored to suit their needs and you'll be amazed at how quickly that can produce results. It's also a really great way to take a lesson as a family and learn together.
Some tops from the pros…
Don't do too much. Learning to ski or snowboard can be tiring so short bursts are a good idea. Instructors will tailor a lesson to meet your energy levels.
Keep it fun. Kids learn if they are enjoying themselves. If they've had enough, stop and take a break.
Get the right gear. All the equipment you need is available for rent and will be fitted to your child.
Put a helmet on your child. They are compulsory in Ski & Snowboard School and it makes sense. You should wear one too.
Invest in some good basics. If your child is warm and comfortable they will enjoy themselves more. Get good gloves, goggles,

 

warm under layers and comfortable socks.
---
Ross Taylor is the manager of the Ski & Snowboard School at Mt Buller and has been a ski instructor for many years. He has a young daughter who is learning to ski. www.mtbuller.com.au
Photos: Mt Buller
First published in Peninsula Kids Magazine – Winter 2016
See also: Ski Tips to make your trip a success