A wonderful combination of intense, tasty spices with a fresh tomato salsa inspired by Middle Eastern cuisine. This is a delicious mix of earthy flavours complemented and softened by the fish.
Prep time: 10 minutes
Cook time: 10 minutes
Total time: 20 minutes
Serves: 4
Ingredients
6 – 8 slices rye or spelt bread
2 garlic cloves, chopped
2 teaspoons ground cumin
1 teaspoon ground coriander
¼ teaspoon cayenne pepper (optional)
2 handfuls basil leaves
¼ cup cornflour or rice flour
1 egg
4 fillets firm white fish (e.g. rockling or ling)
coconut oil
2 tomatoes, finely diced
¼ red onion, finely chopped
1 handful fresh coriander, chopped
1 lime
salt and pepper
Method
In a food processor combine bread, garlic, ground cumin, ground coriander, cayenne pepper and basil leaves and mix to make a spicy bread crumb mix. Make it as fine or as chunky as you like.
Place the flour on a dinner plate, whisk the eggs in a wide, shallow bowl (with a dash of water) and place breadcrumb mix on another dinner plate.
Coat each piece of fish in flour, dip in egg wash and then the breadcrumb mix. Press down gently to make sure the crumbs stick.
Place 1 – 2 tablespoons of coconut oil in a large frying pan over medium-high heat.
Cook fish for 5 minutes on each side or until the crust is crisp and the fish is cooked through.
Serve topped with the salsa and remaining lime cut into wedges.
To make a salsa:
Combine tomato, onion and coriander leaves. Toss together with the juice of half a lime.
---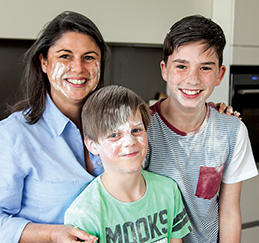 Jodie Blight | We're all busy and want quick, healthy and delicious meals but sometimes just don't have the time. Summer TABLE will inspire you to put variety and zest back into your mealtimes and with a free APP to create a shopping list on your phone, dinner will be ready in no time! And – you learn how to use leftovers in innovative new ways.
After years working as a company director in the finance industry, starting a family and moving half way around the world, Jodie Blight discovered her passion – creating healthy, easy and delicious family meals. "A fist pump from the kids is as good as a Michelin star in my books."
To find out more about this revolutionary cookbook, please visit www.hellotable.com.au or find us on Facebook at www.facebook.com/hellotable