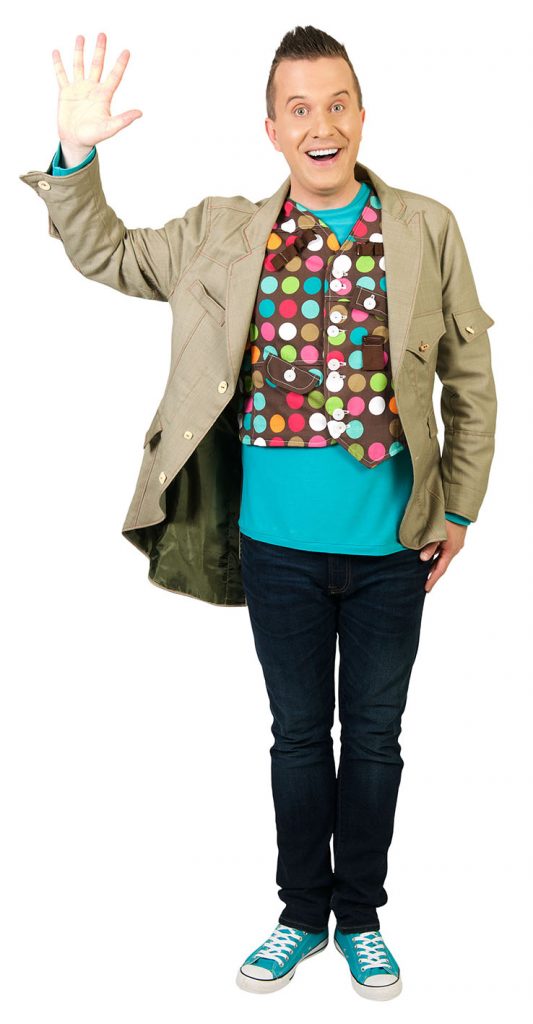 Mention the name Mister Maker around any kids and watch the excitement in their eyes. The crafty and colourful character from ABC Kids makes children of all ages love to watch what he can make; especially in under a minute. After his sell-out 2015 tour, the craft-man himself, is back to make more crazy creations with help from the doodle box.
Phil Gallagher, as Mister Maker is known in everyday life, began his career as a journalist but always wanted to be a children's TV entertainer.
"I was sports reporting very early on, before my proper career started, and was very fortunate to get experience with my local BBC. I loved local sports and was able to report on the local footy.  But it had always been my dream to work in kids TV," said Gallagher. "I had an opportunity to work on the Disney Channel many years ago and that's where it all started."
For Gallagher growing up watching kids TV presenters gave him something to work towards.
"I loved watching how they entertained the kids and that connection on a one to one basis. That's what I do with Mister Maker, using arts and crafts and lots of fun to create a show that inspires people of all ages to get arty. It's comical and funny and the kids feel like Mister Maker is one of their friends. With the live show we bring the connection to the TV show and it is great because we get an immediate reaction from the audience. The live show is interactive and so much fun. Last year we had Jimmy Giggle come up on stage and it was great."
Although he has been doing the show for 10 years, Gallagher says he is grateful every day to do something he loves.
"It's such a joy to do and such a privilege to be able to call it my job; I feel very fortunate indeed," said Gallagher, who was nominated for a Bafta in 2009.
"That was a surreal moment. We had only been on air for a couple of years and we lost out to Richard Hammond from Top Gear, so we were in very good company. I met him on the night and it was great to be able to congratulate him."
When asked what makes the show so popular, Gallagher laughs and says "my hair of course." Mister Maker is well known for his cooky hairstyle and his colourful vests, with the show commanding the attention of tens of thousands of viewers across the globe. Screened in over 100 countries, and dubbed in several different languages, Mister Maker's crafty approach to children's entertainment sees mini-makers transcend culture and age, with a fan base ranging from toddlers to adults.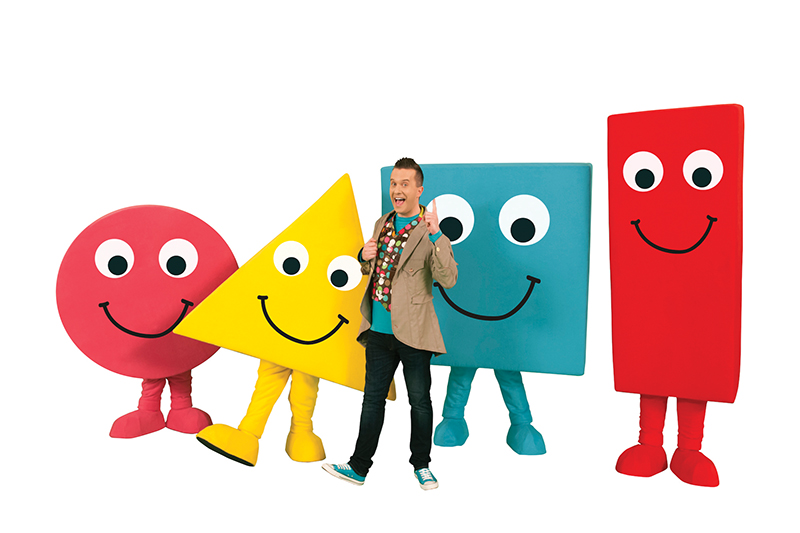 "The main reason for the show's success is that it is about arts and crafts which are a universal thing, or at least being creative is something people from all walks of life can do. Mister Maker teaches simple art techniques and tries to inspire people to make something. It is making arts and crafts popular around the world."
The son of a retired policeman and retired teacher, Gallagher says his mum and dad are both very funny, and have always been incredibly supportive.
"I am so busy with my job going all around the world but love coming home and spending time with them. We sit around having toast and tea and a real giggle. Even though the show is very popular now, mum still gets a thrill if my photo is in the local paper. It's very funny. The truth is the show has completely changed my life beyond all recognition. Mum and I were talking about it the other night and we never fail to be amazed by it. I'm doing what I love to do, I've had to work very hard, and I thank my parents in particular for that. When I started at Disney Channel as a work experience boy in the late 90s I commuted to London two hours each way. It was unpaid work at first, and then I got the runners job which was the lowest paid job. Working in London the only way I could have done those lowly paid jobs was with the support of my parents. It was having the support to get that initial experience of getting the foot in the door."
A far cry from those early days, Gallagher says he does get recognised when he goes out now.
"I mainly get recognised by parents who spot me and say 'It's Mister Maker' to their kids. These days it's quite funny as grownups will ask for a selfie with me. The other day on the train a dad recognised me and asked for a selfie. It's always really lovely to meet people and I'm honoured that they watch and enjoy the show."
This time, in his live and interactive show, Mister Maker is bringing along his friends, The Shapes, to join him in making lots of arty projects. There will be fun, brand-new songs to sing, and crafty adventures to take part in.
This craft-packed show is sure to be bundles of fun for the whole family, so mini-makers – book your tickets early; you don't want to miss out.
"We will be doing the big make which is something I've wanted to do for ages. We started to do smaller versions on the Mister Maker show in the UK and always wanted to set myself a challenge to get every single person in the theatre to help make something. So you will have to come along and see," said Gallagher.
"The theatre show will exceed people's expectations, with a lot of singing and dancing and the shapes come out as well."
The Melbourne tour dates for Mister Maker are Wednesday 29 June, Thursday 30 June, and Friday 1 July.
For complete tour and ticket information, visit: livenation.com.au
By Melissa Walsh