Your family and friends will enjoy the amazing flavours in this Moroccan inspired dish. The fruits and spices create a delicious combination that is sweet and tasty but not too spicy. Substitute dried apricots for prunes if you prefer.
Prep time: 10 minutes
Cook time: 20 minutes
Total time: 25 minutes
Serves: 4
Ingredients
½ butternut pumpkin, cubed

1 tablespoon olive oil

1 teaspoon ground cumin

1½ cups chicken stock

6 teaspoons harissa

10 prunes, chopped

1 cup couscous

2 whole roasted red peppers, sliced

½ red onion, finely sliced

2 handfuls baby spinach leaves

400 g cooked lamb, warm

1 handful pine nuts, toasted

plain yoghurt to serve (optional)[pullquote]Tip: For a gluten-free option replace couscous with quinoa! Using leftover roast pumpkin will have this on the table in 10 minutes.[/pullquote]
Dressing
3 tablespoons orange juice

6 tablespoons olive oil

2 tablespoons white condiment (white balsamic vinegar)
Method
[dropcap]1[/dropcap]Preheat oven to 200°C. Coat pumpkin cubes with oil (I like to put them in a plastic bag with the oil so they get coated evenly), place on a roasting tray and sprinkle with cumin. Roast for 20 minutes, until brown and cooked through.
[dropcap]2[/dropcap]Boil chicken stock in a saucepan. Remove from heat and add harissa, prunes and couscous. Mix then cover with lid for 5 minutes. If after 5 minutes the couscous is very dry, add a small amount of boiling water and cover for another few minutes.
[dropcap]3[/dropcap]In a salad bowl, mix the dressing ingredients, then add sliced capsicum, red onion, spinach leaves, roast pumpkin and warm lamb. Fluff the couscous with a fork and toss in the bowl with the vegetables and lamb. Mix gently.
[dropcap]4[/dropcap]Sprinkle with toasted pine nuts and serve topped with a spoonful of plain yoghurt.
---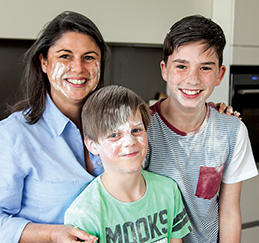 Jodie Blight  |  We're all busy and want quick, healthy and delicious meals but sometimes just don't have the time. Summer TABLE will inspire you to put variety and zest back into your mealtimes and with a free APP to create a shopping list on your phone, dinner will be ready in no time! And – you learn how to use leftovers in innovative new ways.
After years working as a company director in the finance industry, starting a family and moving half way around the world, Jodie Blight discovered her passion – creating healthy, easy and delicious family meals. "A fist pump from the kids is as good as a Michelin
star in my books."
To find out more about this revolutionary cookbook, please visit www.hellotable.com.au or find us on Facebook at www.facebook.com/hellotable