With Mother's Day just around the corner, we sharing some last-minute edible gift ideas that children, young and old, could whip up in the kitchen.
No matter if your mum enjoys breakfast in bed, indulges in a sweet treat at night or prefers a protein ball after a workout, Mayver's has a recipe sure to spoil every mum.
For those who don't live at home or aren't able to visit their mum or grandmother this year, a lot of these recipes are super portable and make great additions to a Mother's Day gift basket to be left from afar.
Mums deserve to be spoiled every day and these recipes are a fantastic way to treat your mother any day of the week, if for no reason at all, just to let them know how special they are. Here's to the mums!
For the sweet tooth
Chocolate, Peanut Butter and Avocado Mousse
Time: 10 minutes | Serves: 2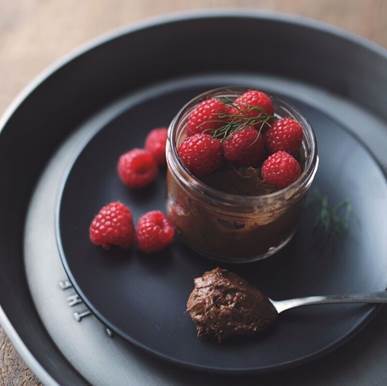 Ingredients
Method
Place all ingredients in a blender and whiz until smooth
Decorate with raspberries
Enjoy!
This delish recipe was provided by the talented @hazel_and_cacao
---
Chocolate Tahini Bliss Balls
Time: 25 Minutes | Serves: 12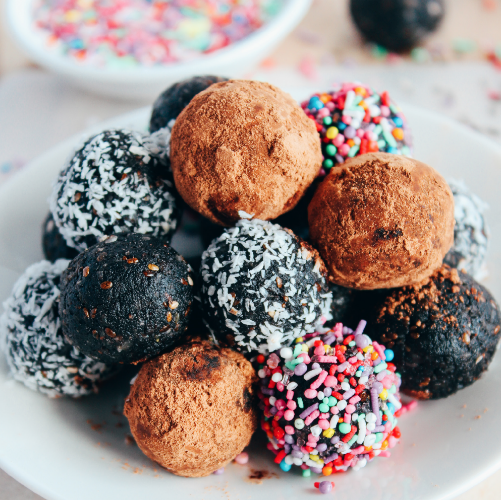 Ingredients
1/4 cup of unhulled tahini
1/8 cup of maple syrup
1/4 cup of finely shredded coconut
1/4 cup of almond meal
1/4 cup of quinoa flakes
1/8 cup cacao
1 Tbsp chia seeds
1 tsp instant espresso – to help enhance the richness of the chocolate
Sprinkles
Cacao
Coconut flakes
Method
Place all ingredients into a medium-size bowl and stir to combine.
If the mixture is a little dry add a splash of water (a teaspoon at a time) until it sticks together to form a sticky "dough"
Scoop a small section of dough and shape roll in the palm of your hand to shape into bite-size balls, repeat until all the mixture has been used. FYI – I use approx 1 heaping teaspoon per bite which makes them the perfect size for popping into your mouth on the down low so you don't have to share
If you are going to coat your bliss bites in cacao, coconut or sprinkles simple place your cacao, coconut and/or sprinkles into a small bowl or ziplock bag and gently press/shake until nicely coated. Store in the fridge until ready to serve.
For the fitness mum
Unsalted Peanut Butter Protein Bars
Time: 30 mins | Serves: 5

Ingredients
1 cup oats, processed into flour
4 tbsp hemp seeds
2 tbsp flax meal
½ cup Mayver's Unsalted Smunchy Peanut Butter
2 tbsp maple syrup
1 tbsp coconut oil
1 tbsp rice malt syrup
50g dark chocolate
Method
Blend the oats in a food processor until a fine flour forms.
In a large mixing bowl, combine the oat flour, hemp seeds, flax meal and, if desired, salt.
In another small bowl, combine the Mayver's Unsalted Peanut Butter, maple syrup, coconut oil and rice malt syrup until a smooth mixture forms.
Add the wet ingredients to the dry ingredients and stir through until a smooth dough forms.
Roughly chop the dark chocolate and fold it through the dough.
Line a baking tin with baking paper and press the dough into half of the tin to form a large rectangle. Refrigerate for approximately 20 minutes or until set, and then cut into 5.
Amazing recipe by @thatlofolife
---
Protein+ Peanut Butter, Raspberry and Chia Pudding
Time: 10 Minutes | Serves: 1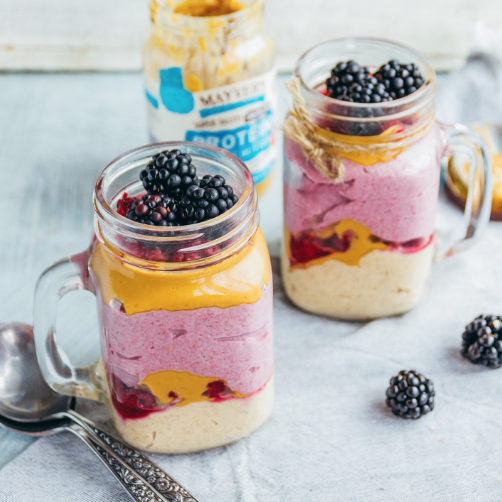 Ingredients
Mayver's Protein + Peanut Butter layer:
Raspberry Layer:
¼ cup of white chia seeds
1 cup of nut milk of your choice
1 cup of frozen or fresh raspberries
Extra berries and Mayver's Protein + Peanut Butter are optional.
Method
In a blender mix all the Mayver's Protein + Peanut Butter layer ingredients and then pour into your jars/bowls.
Then do the raspberry layer and pour on top.
Keep in the fridge for up to 2 days.
Serve with extra Mayver's Protein + Peanut Butter and berries if desired.
Thanks to Claire from The Healthy French Wife for this recipe. Be sure to check out her Website, Facebook and Instagram for more amazing content.
For every mum
Dark Chocolate Rose Brownies
Time: 30 minutes | Serves: 9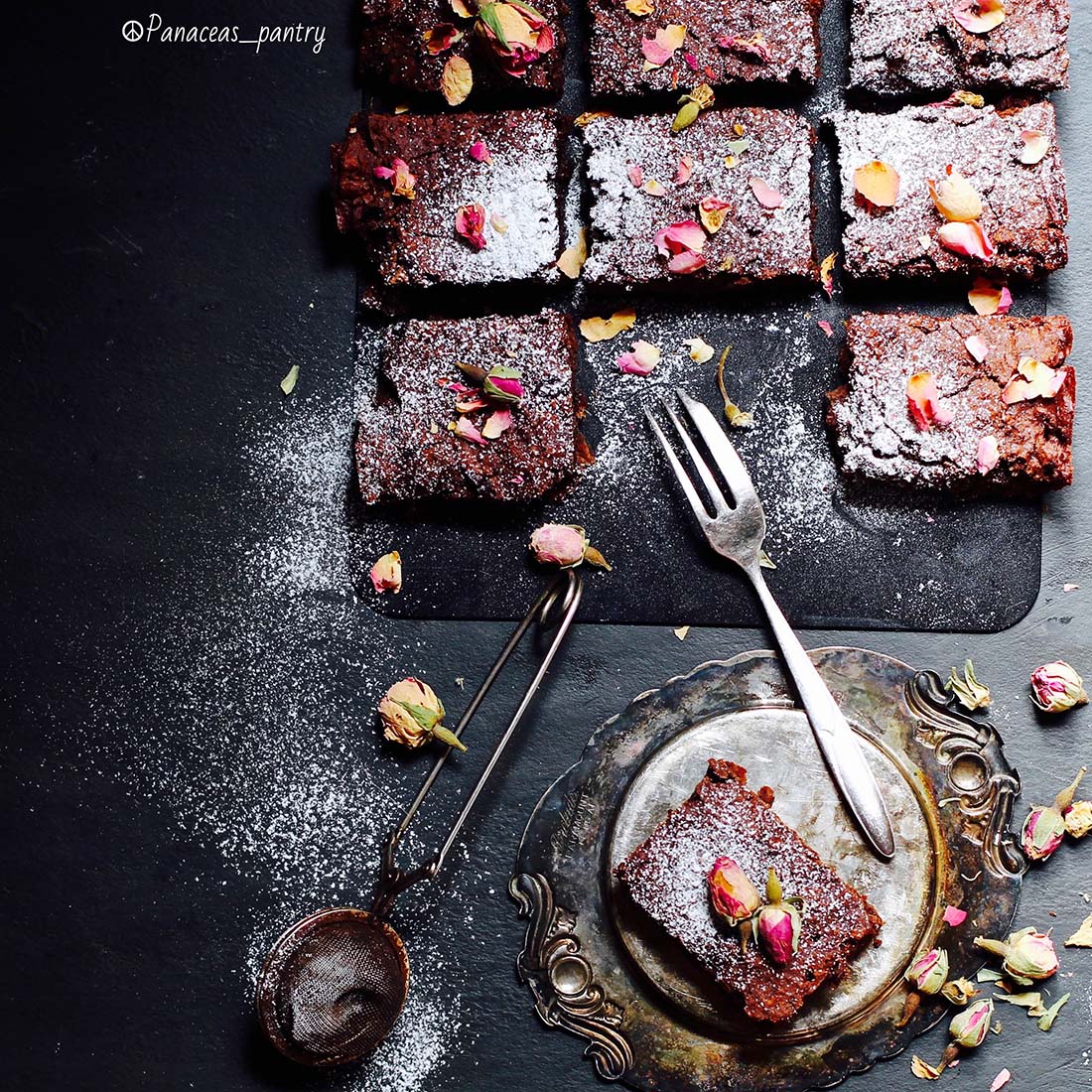 Ingredients
1/2 cup Medjool dates, pitted
2 Tbsp Mayver's Unhulled Tahini
1 425g can blackbeans, drained and rinsed well
1/2 cup quinoa flakes
1/2 cup rice malt syrup
2 drops food-grade rose essential oil
1/2 cup Almond meal
1/4 cup dutch pressed cacao
1/4 tsp good-quality salt
1/2 tsp gluten and aluminium free baking powder
50 grams vegan 80-90% dark chocolate, chopped into rough pieces
Method
Preheat oven to 180 degrees celsius.
Place blackbeans, dates, rice malt, Mayver's Tahini and rose oil in a food processor, blending until very smooth. Add almond meal, cacao, baking powder and salt, and blend again until uniform.
Transfer to a bowl, stirring in chocolate chips
Pour into a baking-paper lined 10 inch square tine and cook for 15-20 minutes, or until cooked through.
Remove from over and stand for 5 minutes before transferring to a cooling rack.
OPTIONAL: Decorate with powdered coconut and edible rose petals. To powder coconut- Simply add desiccated/shredded coconut to a coffee grinder and blend on high, until a powdered consistency has formed.
This recipe was provided by this month's Mayver's Taste Tester @panaceas_pantry
---
Peanut Butter & Coconut Chia Buckwheat Parfait
Time: 5 minutes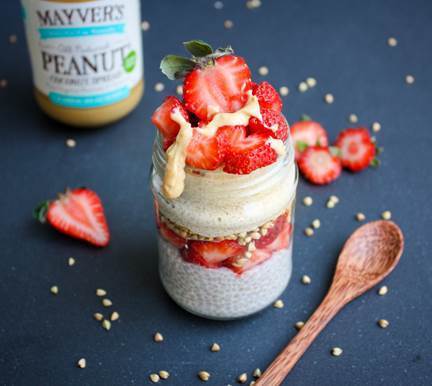 Ingredients
Coconut chia pudding
2 Tbsp chia seeds
1 cup coconut milk
1/2 tsp vanilla extract
1 Tbsp coconut sugar
Peanut Coconut Buckwheat porridge
1/4 cup raw buckwheat (soaked in water overnight and drained)
1 tsp psyllium
1 heaped tsp Mayver's Peanut & Coconut spread
1/4 – 1/2 cup coconut milk
1 tsp coconut sugar (more to taste)
Method
Stir pudding ingredients well and leave in the fridge overnight.
Blend all porridge ingredients. Adding liquid and sweetener to suit.
Layer the two puddings with some fruit and buckwheat groats and top with more Peanut & Coconut spread!
This delicious healthy breakfast was provided by @healthyeating_jo
For more fabulous recipes head to mayvers.com.au