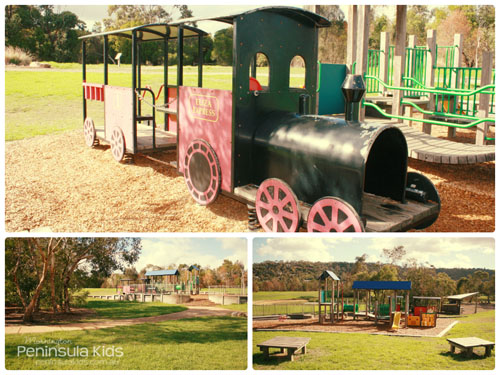 Do you have a train fan in your family? Mt Eliza Regional Park in Two Bays Rd is home to a wooden playground with features such as slide, abacus, tunnel, chain bridge, tic-tac-toe & fireman's pole sit beside the Eliza Express. This is a train engine with carriage (separated by a balance beam) where young train lovers will play for hours!
There is an enormous lake close by for feeding the ducks, BBQs, tables, toilets and various surrounding nature walks.
Our Favourite Feature – we have a train lover in our family, so it is difficult to go past the Eliza Express!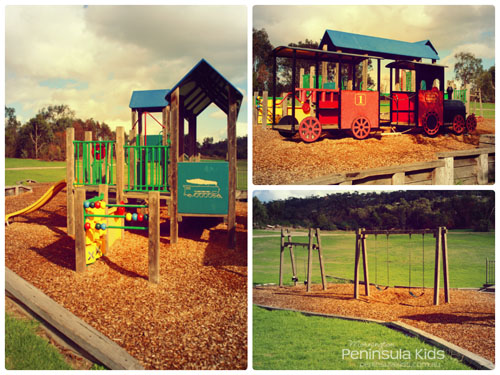 Other Mount Eliza Playgrounds
Boxmoor Reserve, Boxmoor Court
Bruce Cameron Reserve, Barmah Street
Emil Madsen Reserve, Wooralla Drive
John H. Butler Reserve, Ranelagh Drive
Lisa Reserve, Lisa Court
Moorooduc Quarry Reserve, Two Bays Road
Mount Eliza Community Reserve, Canadian Bay Road
Mount Eliza Park, Mountain View Road
Mount Eliza Shopping Centre Reserve, Mt Eliza Way
Plantation/Rupert White Reserve, Mount Eliza Way
Warana Reserve, Warana Way