By Kim Norton
With school holidays fast approaching here in Victoria, our families are faced with the somewhat overwhelming task of keeping our kids entertained.
Whilst it is great to be able to take the kids out to the movies, the city, a show, or a family day out, this can prove to be expensive and out of reach for many.  For our working parents this simply may not be a viable option at all as the kids are left with carers/extended family.  For others, it might be something that can only be done a couple of times over the school holiday period. 
So, taking into account COVID-19 lockdowns/restrictions, time, money, weather (and the need for all of you to get some much needed rest) how do you please each member of the family and curb the inevitable cries of "Mum, I'm bored" when you want to spend some time at home? You sit down with your child/children, and you make a list of activities that they can do either by themselves, with each other, as a family or with minimal supervision.
Because your little cherubs have helped to compile this list, they will feel empowered, more likely to take ownership and at least have a go at some of the listed suggestions.  Mix up the list with some indoor and outdoor activities; activities they can do independently, together and activities that do not involve an iPad or computer screen.
Some ideas for your list could include: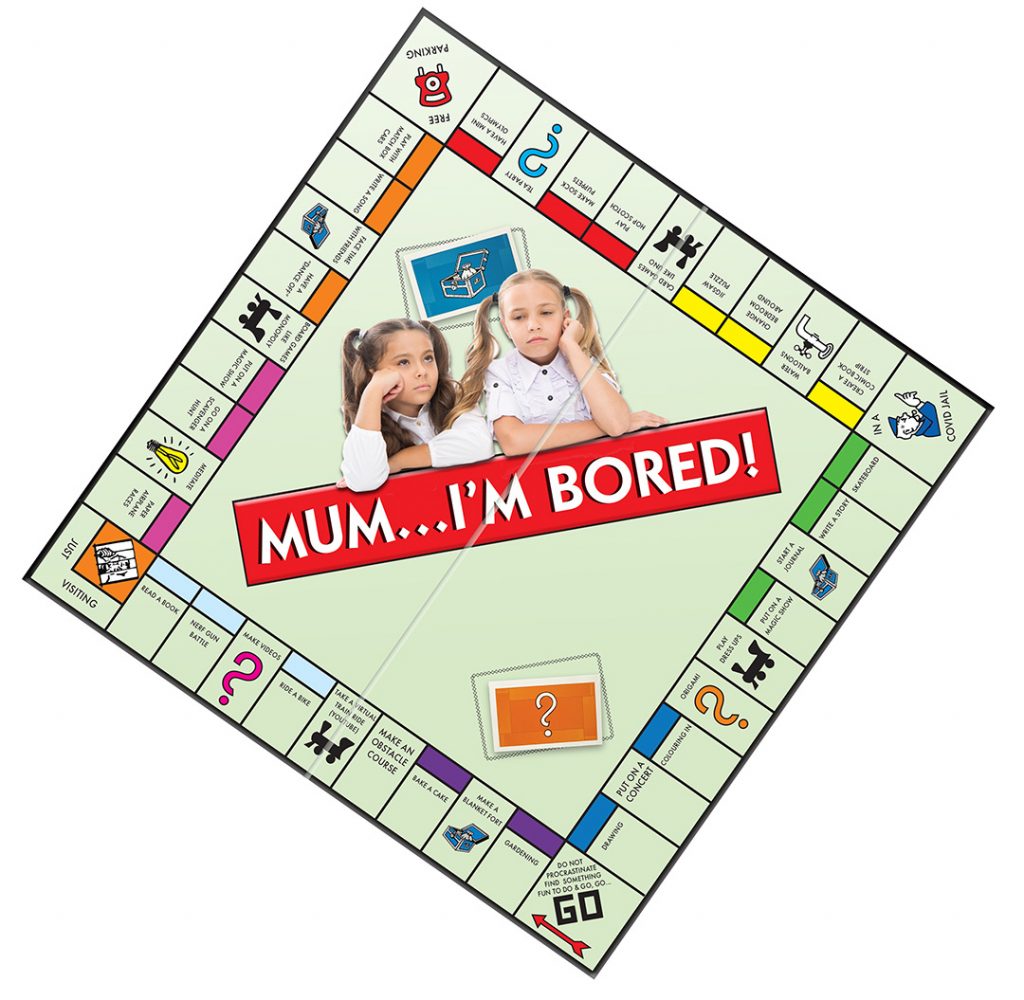 Lego/Magnetix/Duplo
Bake a cake
Drawing
Colouring in
Play hopscotch
Card games like Uno
Board games like Monopoly
Make a blanket fort
Trampoline
Have a "dance off"
Cosmic Kids Yoga
Put on a concert
Put on a magic show
Make videos
Play on the swing
Change bedroom around
Playdoh/Slime
Read a book
Take a virtual train ride (YouTube)
Tea party
Play dress ups
Make an affirmations Jar
Nerf gun battle
Write a song
Gardening
Meditate
Ride a bike
Play with match box cars
Blow bubbles
Play with LOL's/dolls/Barbies
Chalk drawing on the concrete
Start a journal
Have a wrestling match
Go on a scavenger hunt
Write a story
Face time with friends
Face time games like charades
Watch a movie
Watch a documentary
Paint a picture
Create a comic book strip
Skateboard
Have a Mini Olympics
Make an obstacle course
Make sock puppets
Origami
Jigsaw puzzle
Learn to knit/crochet/sew
Paper airplane races
Visit the zoo, museum or even space, via their interactive websites.
Pop your list up somewhere that can easily be seen by all and when you hear those inevitable cries of boredom, you simply point at it.  No raised voices, no moaning of "I don't know what to do" and no having to think on your feet allowing you to sit down and enjoy that whole cup of hot coffee ?
---
Kim is the founder of Rainbow Light Therapies and is a Holistic Counsellor specialising in stress and anxiety management for kids, teens, and adults. Kim provides a unique, intuitive, and individualised therapy approach through individual, small group, and family counselling sessions both online and at her studio in Langwarrin. Also working with special needs kids, Kim runs sessions and workshops for people of all abilities on various topics throughout the year.
Please see www.rainbowlighttherapies.com.au