No alcohol, no smoking, no soft cheese, no rare steak, no yummy runny poached eggs, no contact sports, no more than two cups of coffee per day, wear gloves while gardening, stay away from kitty litter, don't travel to tropical areas in developing countries, don't fly in the third trimester, and try not to raise your blood pressure, overheat or otherwise get excited or do anything too interesting at all. Oh, and definitely no horseriding or hot spas.
If you're familiar with this list, you're probably either trying to conceive, currently pregnant or stuffing your face with brie and champagne post-birth.
2013 is the first year since 2008 during which I will not be pregnant, or attempting to conceive. Along with my BFF, who is similarly foetus-free, we decided it was time to reintroduce ourselves to some of the joys of not being pregnant.
Gunamatta Trail Rides and Peninsula Hot Springs have united to create what I fondly refer to as the "Post-Pregnancy Delights" package. (They call it the "Hot Springs Express", in case you're looking for it on their website). You can imagine my excitement when my family and my BFF banded together for my birthday to shout me this package, paired with a champagne lunch at the Peninsula Hot Springs' licensed cafe.
Thanks to the by-products of two pregnancies (by which I mean my gorgeous boys whom I love to bits, but who believe sleep to be optional) I started my day at 4.15am after about four hours of sleep. Plenty of time, then, for three coffees at home as well as a brief pause at the drive-thru McDonald's on the way for another coffee almost as big as my head. Naturally, after a quick trip down the Peninsula Link Freeway, our first stop at Gunamatta Trail Rides was the loo.
Getting back onto a horse after 7 years away turned out to be not dissimilar to getting back on a bike. After some brief revision on stirrup and rein technique and instructions on how to rise to a trot without sustaining a spinal injury (to either ourselves or our steads), we were off.
The bush and beach views were spectacular. What had threatened to be a grey day had become poetry-worthy azure. By the time we returned to the stables my BFF and I had enthusiastically started sketching plans to attempt an overnight ride in the Highlands. After dismounting and staggering bow-legged back to the car we revised our grand vision to perhaps a half-day ride next time.
Champagne washed down Thai fish cakes at the Peninsula Hot Springs cafe and was quickly followed by lowering ourselves gratefully into the healing waters of the lowest pool. Seven years is a long time between horse rides. We worked our way up the hill seeking ever hotter pools and studiously ignoring the pre-child bearing women with their stretch-mark-free thighs and flat bellies. Eventually we made it to the hottest pool at the top of the mountain and slid in to enjoy the panoramic Peninsula views for as long as we could stand without passing out.
After formulating and, sadly, discarding plans to find somewhere nearby to stay overnight we remembered we had husbands and kids waiting at home and reluctantly dragged ourselves out of the pools. Back to the licensed cafe we went for a coffee and cake to fortify us for the drive home.
Only a few months to go until my BFF's birthday and then I think I will have to return the favour, provided neither of us have succumbed to the joys of pregnancy again.
---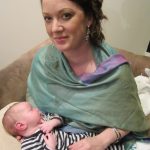 Rebecca Bowyer is a regular blogger with Mornington Peninsula Kids. You can read more of her blogs at Seeing the Lighter Side of Parenting and follow her on Facebook or Twitter.