Prep time: 10 minutes
Cook time: 35 minutes
Serves: 9
Ingredients:
125g butter
1 cup sugar
4 tablespoons cocoa powder
2 tablespoons water
3 eggs
1 teaspoon vanilla extract (optional)
1 cup almond meal
50g gluten free chocolate chips (optional)
Pure icing sugar, to serve
Raspberries and ice cream to serve
Method:
Preheat oven to 160°C.
Grease and line a 20cm square oven proof dish.
In a saucepan over medium-high heat, melt butter, sugar, cocoa and water. Stir until completely melted then add eggs and vanilla. Finally stir in the almond meal.
Pour mixture into the prepared dish and cook in oven for 35-40 minutes.
When ready, remove from oven and allow to cool in the dish for 10 minutes, then remove and cool completely on a cake rack. (I say this but it has never actually happened in our house – it always gets attacked the second its removed from the baking dish.)
Sprinkle with icing sugar, cut into squares and serve with raspberries and ice cream or on its own.
Tip: For a variation, try mixing the raspberries through the chocolate mixture before baking.
---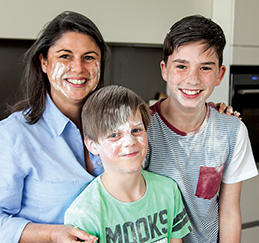 With so many of our Peninsula families affected by gluten intolerance and coeliac disease, we have decided to focus on recipes which can be enjoyed by GF and non-GF alike.
Jodie Blight has developed an amazing new App which enables you to scan the recipe from Peninsula Kids Magazine to create a shopping list on your phone. All in the name of making dinner time easier.
Endorsed by Coeliac Australia so you have peace of mind that every recipe is 100% gluten free.
Download the recipeezi Gluten Free App from the App Stores (it's FREE), use the App to scan the recipe QR code and voila, your shopping list awaits!
Even if you are not GF, I promise you will love every recipe.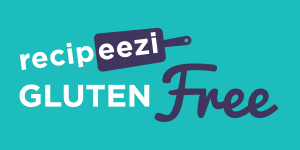 Peninsula Kids – Autumn 2019