Ingredients
200g organic butter, chopped
125 ml honey
2 cups almond meal
1 tsp vanilla powder
½ tsp ground cinnamon
1 egg, beaten
3 tbs crunchy peanut butter
100g dark chocolate, roughly chopped
coconut yoghurt to serve
Method
Preheat the oven to 180°C. Melt the butter and honey in an ovenproof frying pan. Remove the heat and leave to cool slightly.
Stir in the almond meal, baking powder, vanilla, and cinnamon. Whisk in the egg to form a batter.
Dollop the peanut butter over the batter and scatter over the chocolate pieces, then transfer the pan to the oven and bake for 20-25 minutes, or until golden brown and crispy on the outside.
Serve warm in the middle of the table for everyone to share, topped with a generous dollop of coconut yoghurt.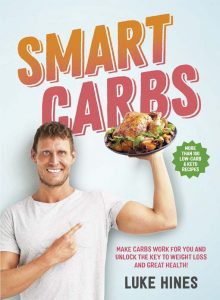 Recipe from
"Smart Carbs"
by Luke Hines
published by Plum