Schnitzel is an all-time favourite, and you will love this crispy, cheesy chicken schnitzel. Using fresh breadcrumbs and cooking in coconut oil helps to give it a crispy, crunchy coating. For additional flavours, try adding parsley or thyme to the breadcrumb mix before processing.
Prep time: 10 minutes
Cook time: 10 minutes
Total time: 20 minutes
Serves: 4
Ingredients
400g chicken breast fillets
6-8 slices spelt or rye bread
½ cup parmesan cheese, finely grated
freshly ground pepper
½ cup spelt or plain flour
2 eggs, beaten
coconut oil
4 handfuls rocket
250 g cherry tomatoes, halved
1 handful basil leaves, chopped
Dressing
2 tablespoons balsamic vinegar
6 tablespoons olive oil
Method
Preheat oven to 100°C.
Slice the chicken fillets in half horizontally so you have skinny fillets.
Lay chicken between two sheets of plastic wrap and, using the flat side of a meat mallet or rolling pin, pound schnitzels to an even thickness (about 1 cm). This makes them quicker to cook, keeping the chicken moist.
In a food processor, crumb the bread and parmesan. Make them as fine or as chunky as you like. Add lots of freshly ground pepper.
Place the flour on a dinner plate. Whisk the eggs in a wide, shallow bowl, with a tablespoon or two of water (helps to break up egg white and thin mix). Place breadcrumbs on another dinner plate. Coat the chicken pieces in the flour (shake off excess), dip in egg wash and then breadcrumbs. Press down firmly to make sure the crumbs stick. Place on a clean plate and continue with remaining chicken fillets.
Place 1–2 tablespoons of coconut oil in a large frying pan over medium heat.
Cook schnitzels (2 at a time) for 2 minutes on each side until the crust is golden and crisp.
Place on a lined tray in warm oven and repeat with remaining schnitzels. You may need to add more coconut oil each time.
Assemble the schnitzels on individual plates, top with a handful of rocket and a scoop of tomatoes and sprinkle with basil.
Shake vinegar and oil in a jar until combined. Taste and adjust to your liking, then pour dressing over top of rocket and tomatoes.
---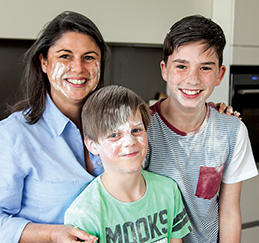 Jodie Blight | We're all busy and want quick, healthy and delicious meals but sometimes just don't have the time. Summer TABLE will inspire you to put variety and zest back into your mealtimes and with a free APP to create a shopping list on your phone, dinner will be ready in no time! And – you learn how to use leftovers in innovative new ways.
After years working as a company director in the finance industry, starting a family and moving half way around the world, Jodie Blight discovered her passion – creating healthy, easy and delicious family meals. "A fist pump from the kids is as good as a Michelin star in my books."
To find out more about this revolutionary cookbook, please visit www.hellotable.com.au or find us on Facebook at www.facebook.com/hellotable