Recent research has shown that we are unprepared for the dangers that some of Australia's creepy crawlies and venomous creatures pose. Results of a new survey commissioned by Seqirus revealed nearly half (48%) of Australians are unsure or not confident when it comes to first aid for venomous bites and stings.
The survey of 1,049 people looked at how Australians prepare for the potential dangers of enjoying the sunny weather outdoors and found that only 11 per cent agreed refreshing their knowledge on first aid for bites and stings from venomous creatures is a top priority ahead of summer, behind activities such as weight loss programs, diets and planning a holiday.
Incidences with venomous creatures including snakes, spiders and marine animals were reported to cause 41,521 hospitalisations in Australia from 2001-2013. Despite these statistics and Australia's fearsome reputation as the home to many deadly venomous creatures many Australians could be unprepared.
A free smartphone app, Australian Bites & Stings: First Aid Guide to Australian Venomous Creatures has been developed and includes a new function that provides users with information on which venomous creatures are most relevant to their geo-location.
"Australia is native to some of earth's most venomous creatures and we encourage all Australians to be equipped with up-to-date first aid knowledge for venomous creatures, especially when people are likely to head to the beach, the bush or even out in the back yard with family and friends. The Australian Bites and Stings App is an easy-to-use resource and should be essential for everyone," said Associate Professor Bill Nimorakiotakis, Epworth Richmond Emergency Department.
Why Australians need to consider taking action:
18-29 year olds are three times more likely to prioritise buying a new season wardrobe (34%) and body tone (35%) than getting clued up on how to deal with deadly bites and stings (11%)

More than half of parents with children under 18 years old (52%) are either unsure or not confident on how to treat venomous creature bites or stings

Millennial Australians are the least likely to know how to deal with encounters with venomous 

creatures, with only 45% confirming they would know what to do
Rural Western Australia is the least confident region for dealing with bites and stings from venomous creatures with nearly two thirds (62%) confirming they wouldn't know what to do or are unsure
Even in South Australia, the most confident region, 37% of inhabitants remain unsure or not confident on how to deal with venomous bites or stings.
Associate Professor Julian White, Head of Toxinology at the Adelaide Women's and Children's Hospital said: "The small proportion of people who would know what to do in an emergency is alarming. Knowledge of how to apply first aid to venomous bites and stings is so important, and could potentially save a life. The bites and stings app has been developed so that when Australians are bitten or stung by a venomous creature, they or someone they know have a ready reference to help them respond quickly and appropriately."
Seqirus produces a range of antivenoms against Australia's most venomous snakes, spiders and marine  animals on behalf of the Australian Government. As the only manufacturer in the world to supply antivenoms specific to Australian fauna, Seqirus is committed to reducing the burden of venomous bites and stings through awareness, education and community programs.
If you or someone you know has been bitten or stung by a venomous creature and needs urgent medical advice or assistance, call 000. For more information on the treatment of venomous bites and stings, please speak to your doctor.
About the Australian Bites and Stings App
The app is available to download for free from the Apple App store and Google play or from the webpage: www.seqirus.com.au/bites-app.
Information contained in the app has been designed to provide assistance for the general public on Australian venomous creatures. The guide is specific to Australian fauna, and is based on local resuscitation and envenoming first aid management guidelines published by the Australian Resuscitation Council (ARC). The geo-location maps are based on occurrence records maps published by the Atlas of Living Australia (ALA) and distribution maps published in bioCSL's handbook. The information provided in the app is to be used as a reference only and is not intended as a substitute for professional first aid training and techniques.
About Seqirus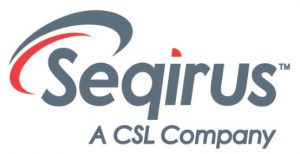 Seqirus, a CSL company, is a leading provider of essential vaccines, pharmaceuticals and diagnostic reagents. We have served Australia's healthcare needs for over a century and today we develop, manufacture and source medicines that support the health and wellbeing of many thousands of people around the world.
Seqirus operates Australia's only local manufacturing facility for seasonal and pandemic influenza vaccine and produces a range of unique medicines in the National Interest including antivenoms and Q fever vaccine. Seqirus also in-licenses a broad range of paediatric and adult vaccines and specialty pharmaceutical products.
For further information, please visit: www.seqirus.com.au
References
i. National survey of 1049 people conducted by Ipsos, August 2017. Data on file, Seqirus.
ii. Welton, R. Injury trends from envenoming in Australia, 2000–2013. Internal Medicine Journal. February 2017. Volume 47, Issue 2.
iii White J. A Clinician's guide to Australian venomous bites and stings: incorporating the updated CSL antivenom handbook. bioCSL Pty Ltd. 2013.