By Kennedy McCullough
N

ickelodeon is expanding the world of Henry Danger, the highly popular kids' series, with the launch of Danger Force, a brand-new original live-action spinoff.
The new series stars two of the most beloved characters from Henry Danger, Ray/Captain Man (Cooper Barnes) and Schwoz (Michael D. Cohen), and introduces four new superheroes-in-training, Chapa (Havan Flores), Miles (Terrence Little Gardenhigh), Mika (Dana Heath) and Bose (Luca Luhan).
The four teens are recruited to attend Swellview Academy for the Gifted (SW.A.G. for short), a school conceived by Captain Man and brought to life by Schwoz, after having been accidentally mutated in the fight to save Swellview. While there, the kids must learn to harness their frequently troublesome and sometimes uncontrollable superpowers as they begin to fight crime. Despite the dangerous circumstances of their new lives, the superheroes must keep their real identities a secret from their friends, families and the villains who are out to destroy them.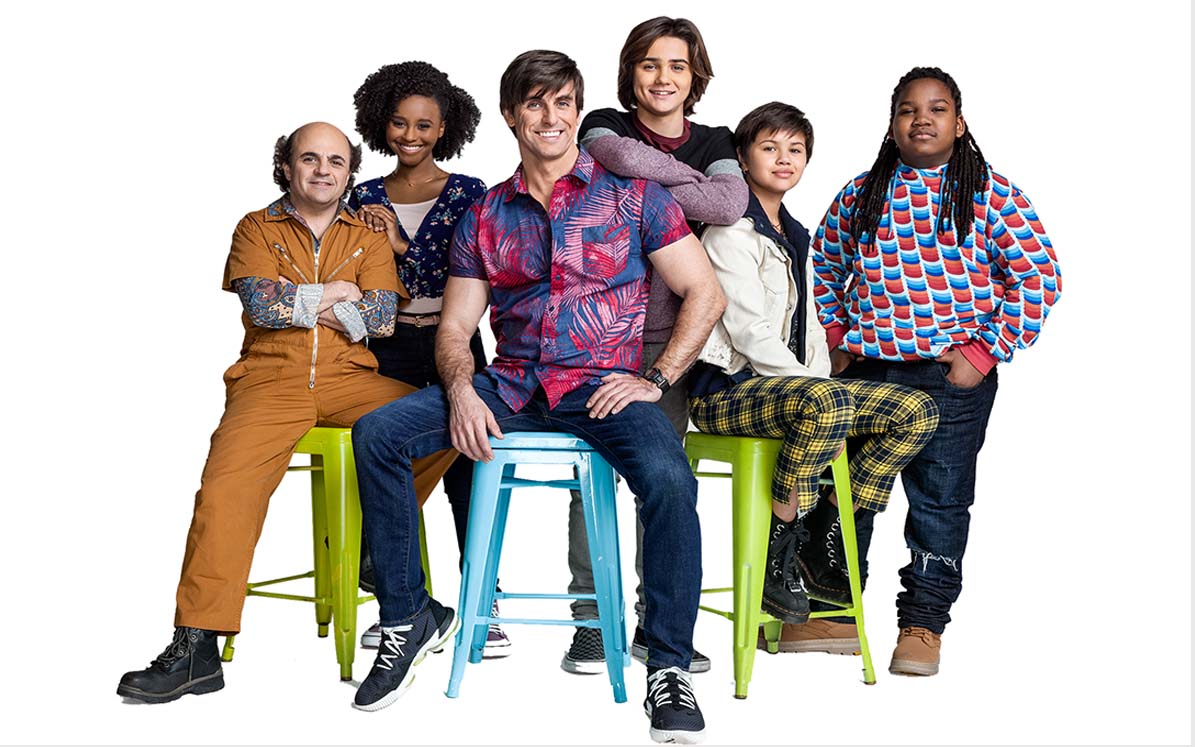 Peninsula Kids junior journalist, Kennedy, had the pleasure of chatting with a couple of the new recruits!
1. How old are you?
Havan: 13.
Dana: I'm 14 years old.
2. Have you always been an actor? When did you first start?
Havan:
No, I was an athlete first. I started tumbling and competing in cheer at the age of six.
Dana:
I started acting in my school's musical theatre when I was in second grade and I got my first acting job when I was nine.
3. What did you love about being in the process of filming?
Havan: Being able to bring life to a character, putting my own spin on the script.
Dana: I love how everything comes together.
4. Are you anything like the character you play in real life?
Havan:
Yes, we are very similar. I'm athletic, intense and I don't goof around a lot.
Dana:
Yes, I'd like to think that Mika and I have a lot in common, like, we're both caring, smart and passionate about what we do.
5. Were you a fan of Henry Danger?
Havan: My family doesn't watch TV very much but I love it now. 
Dana: Yeah I used to watch the show all the time when I was younger!
6. How is school going while filming? Is it hard to keep up with what's happening?
Havan:
It's fine. I've been in home-school and multiple sports and teams most of my life so it's not much different.
Dana:
Well I'm in high school now so it's a little harder than when we first started filming but we have amazing set teachers that help us stay on track and understand anything we may be struggling with.
7. What's it like working with the Captain Man and Schwoz? Are they super funny?
Havan:
They are funny, it's like anything else you have to be part of the team and work together if you want to be great.
Dana:
It's amazing! They're so funny! Their chemistry and how they play off each other is so fun to watch but I also learn a lot from them too!
8. What are the gadgets on set like?
Havan:
Very cool, it's one of the best things to see what all the smart people in wardrobe and props come up with.
Dana:
The attention to detail on every weapon is amazing!
9. Did you know the other Danger Force kids before being cast on the show?
Havan: No.
Dana:
I only knew Terrance before we were cast. We met at a studio that we both did voice over jobs at and hit it off immediately. Fun fact: we always thought we should play sister and brother on a show and now here we are!
10. Did you help come up with ideas for your character?
Havan:
Not really, it's a new show and right now we are learning who our characters are.
Dana:
I try to keep Mika moving even if it's just her hands because I see her as a bit high strung and also sometimes I get to help pick out her clothes.
11. Is it hard for your character to keep their identity secret? Did your character want to tell their parents?
Havan: I don't have parents on the show so it's not hard at all. Haha!
Dana: Not really, Mika is pretty good with secrets like that.
12. How did you find out your hidden power?
Havan:
I got really mad on the first episode and zapped someone by accident.
Dana:
Chris Nowak, the creator, told me when we were at the Henry Danger wrap party! I was so excited!
13. Would you ever want to change your power? If so, what power would you prefer?
Havan:
No, I love my power, it's the best one. If I had to though it would be shape shifting.
Dana:
No, I think her power is perfect for her although I think it would be fun for her to be able to read minds.
14. Any words of advice for kids trying to be the best they can be?
Havan:
BE YOU! Don't try to change to be what you think other people want. Educate yourself, read, don't follow the crowd or social media. Follow your dreams and don't ever give up.
Dana:
Try your hardest to stay positive. No one is perfect so forgive yourself and your imperfections. Every moment is a new chance to be the best you, you can be! Find the good in things and if you can't find it then be it!