For a healthy meal, you can't go past this quick but substantial salad. Low in fat, high in protein, gluten free and bursting with flavour. Quinoa (pronounced keen-wah) has a nutty flavour with a slightly chewy texture. It is being called the new 'super grain' (even though it is a seed) because of its amazing health benefits.
Don't skip the rinsing, the quinoa seeds are coated with saponins, which if not rinsed gives it a bitter taste. When cooked perfectly, quinoa will be slightly translucent, with a visible 'tail', which is actually part of the hull.
Prep time: 10 minutes
Cook time: 15 minutes
Total time: 25 minutes
Serves: 4
Ingredients
1 cup quinoa
2 cups chicken or vegetable stock
50g sugar snap peas or snow peas
400g roasted pumpkin
4 handfuls rocket
4 spring onions, finely sliced
1 handful mint leaves, chopped
1 handful flaked almonds, toasted
50g feta, crumbled
Dressing
2 tablespoons white condiment (white balsamic vinegar)
6 tablespoons olive oil
½ tablespoon of honey
Method
Heat saucepan and add quinoa to toast for a few minutes until it starts to crackle. Remove, rinse and then place back in the saucepan. Add stock and bring to the boil. Place a lid on the saucepan, reduce heat to medium–low and simmer for 15 minutes. Don't lift the lid. When time is up, remove from the heat and stand for a further 5 minutes (without lifting the lid). Allow to cool slightly.
Steam peas for 1 minute until they are bright green but still crisp. Drain, fill pot with cold water and drain again to stop them from cooking.
To make dressing, shake ingredients in a jar until combined. Taste and adjust to your liking.
Toss cooked quinoa, peas, pumpkin, rocket, onion and mint leaves together in a large bowl. Pour dressing over salad and combine. Sprinkle with flaked almonds and feta.
Serve cold or warm.
Quinoa comes in a range of colours, so experiment a little. White quinoa is softer, while red and black quinoa are slightly crunchy and don't stick together as much.
---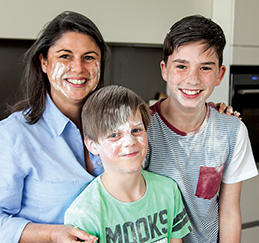 Jodie Blight | We're all busy and want quick, healthy and delicious meals but sometimes just don't have the time. Summer TABLE will inspire you to put variety and zest back into your mealtimes and with a free APP to create a shopping list on your phone, dinner will be ready in no time! And – you learn how to use leftovers in innovative new ways.
After years working as a company director in the finance industry, starting a family and moving half way around the world, Jodie Blight discovered her passion – creating healthy, easy and delicious family meals. "A fist pump from the kids is as good as a Michelin
star in my books."
To find out more about this revolutionary cookbook, please visit www.hellotable.com.au or find us on Facebook at www.facebook.com/hellotable