Who doesn't love the combination of raspberry and chocolate? These little tarts are so easy and irresistible. They make a tasty sweet little treat to finish off any meal. So quick to make, but they do need to set for half an hour.
Prep time: 10 minutes
Cook time: 5-10 minutes
Total time: 50 minutes
Serves / makes : 20
Ingredients
125g chocolate biscuits – crunchy, not coated, e.g. Chocolate Ripple
50g butter melted
85g raspberry jelly crystals
½ cup boiling water
½ cup raspberry coulis (see below)
½ cup condensed milk or cream
raspberries
icing sugar
Raspberry coulis
1 cup raspberries, fresh or frozen
2 tablespoons caster sugar
Method
To make raspberry coulis, place raspberries in a saucepan with caster sugar. Stir over medium–high heat until a sauce starts to form (about 5–10 minutes). Push through a sieve to remove the seeds. Discard seeds.
To make the base, place biscuits in food processor and blend until fine crumbs form. Add melted butter and mix to combine.
Press mixture firmly into base of mini muffin cups until it is compacted. Place in fridge while you prepare the filling.
Dissolve the jelly with boiling water in a jug. Stir to ensure completely dissolved. Add ½ cup of raspberry coulis and when slightly cooled add condensed milk or cream. Either completely combine the ingredients, or just stir a few times and leave a swirled effect through the mixture, then pour over chocolate crumb base in the mini muffin cups.
Refrigerate for 30 minutes or until set.
Serve topped with a raspberry and a dusting of icing sugar.
For a more sophisticated option, set raspberry mix in small shot glasses and serve topped with a raspberry and a sprinkle of chocolate biscuit crumble. These little sweet sensations also make great finger food for a party.
---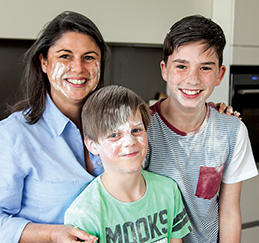 Jodie Blight | We're all busy and want quick, healthy and delicious meals but sometimes just don't have the time. Summer TABLE will inspire you to put variety and zest back into your mealtimes and with a free APP to create a shopping list on your phone, dinner will be ready in no time! And – you learn how to use leftovers in innovative new ways.
After years working as a company director in the finance industry, starting a family and moving half way around the world, Jodie Blight discovered her passion – creating healthy, easy and delicious family meals. "A fist pump from the kids is as good as a Michelin
star in my books."
To find out more about this revolutionary cookbook, please visit www.hellotable.com.au or find us on Facebook atwww.facebook.com/hellotable