A tasty and quick entrée or light casual dinner or lunch. To stave off the evening hunger pangs, this may be the perfect 'little something' to tuck into after a big roast lunch. The garlic gives it a tiny bit of heat, but you can leave it out if you don't like it. Delish!
Prep time: 10 minutes
Cook time: 5 minutes
Total time: 15 minutes
Serves: 4
Ingredients:
leftover roasted fennel, warmed and chopped (or roast with olive oil, salt and pepper until cooked)
1 tablespoon white condiment (white balsamic vinegar)
3 tablespoons olive oil
4 sprigs fresh thyme
salt and pepper
4 thick slices crusty bread
2 garlic cloves, halved
100g goat's cheese
Method:
Combine warm roasted fennel, vinegar, olive oil, thyme, salt and pepper in a bowl.
Toast bread, either in the toaster or even better on the barbecue grill. When brown, remove and rub the garlic over the bread (cut side down).
Top the bread with fennel mixture and drizzle with remaining dressing from the bowl.
Crumble goat's cheese on top and serve.
White condiment goes by many names – white balsamic vinegar or Condimento Bianco Italiano (White Italian Dressing). I prefer it to other vinegars as it has a softer flavour which is perfect for dressings.
---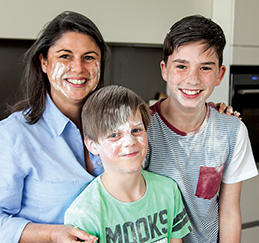 Jodie Blight | We're all busy and want quick, healthy and delicious meals but sometimes just don't have the time. Summer TABLE will inspire you to put variety and zest back into your mealtimes and with a free APP to create a shopping list on your phone, dinner will be ready in no time! And – you learn how to use leftovers in innovative new ways.
After years working as a company director in the finance industry, starting a family and moving half way around the world, Jodie Blight discovered her passion – creating healthy, easy and delicious family meals. "A fist pump from the kids is as good as a Michelin star in my books."
To find out more about this revolutionary cookbook, please visit www.hellotable.com.au or find us on Facebook at www.facebook.com/hellotable