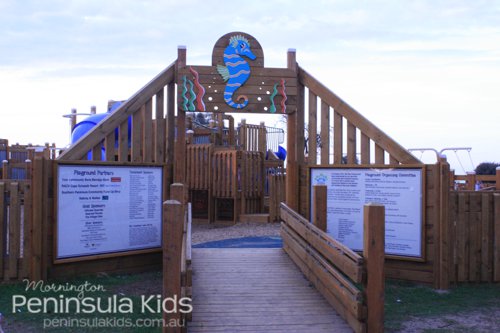 Without a doubt, this is the most inviting playground I have ever visited. As you walk up the ramp to pass through the playground entrance, you are able to read the story of how the playground was built. Many wonderful businesses who donated fund and supplies and many wonderful locals who volunteered their time. Rye's Up! Community Playground is a testament to community spirit and is translated into the facility that has been created. It is located on the Rye Foreshore on Point Nepean Rd.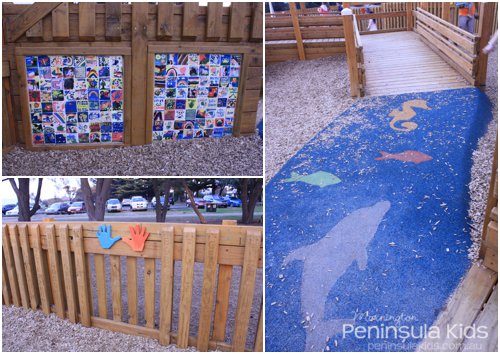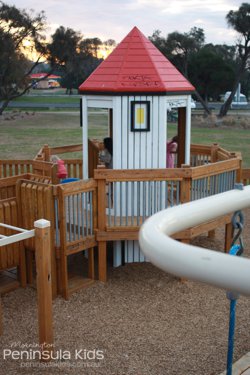 Those who have contributed are recognised in the pailings that make up the fence that encloses the play area. This makes the playground fully enclosed except for the entrance opening. There is a mosaic of children's illustrations in the tile feature. The soft blue rubber with sea creatures provides access for wheelchairs and prams without having to pass through the bark chip ground covering.
The playground is a wooden structure that has been designed in the shape of a ship. Features consist of slides (wave and tunnel), decks, monkey bars, balance beam, fireman's pole, moving surfboard, rock climbing wall, chain bridges, climbing robes, wobble bridge. The design allows for young child to safely run around up high, but there is also a smaller structure perfect for this age group. It has a lighthouse with small slide, walkways and tunnels.
The playground is given character with the sea theme featured throughout. There is a bait shop, treasure chest, mermaids, divers, fish, crabs, starfish, photo holes, boat and funny mirrors.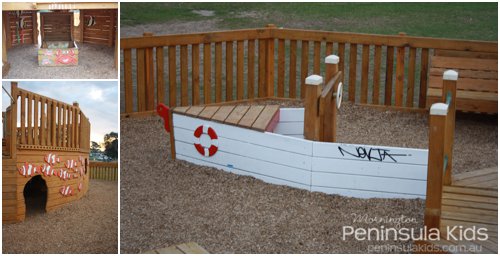 Additional features include the bank of swings (including a bird's nest swing), spinning cup and springer. The playground also sits on the grassed area beside the foreshore and pier and has BBQs, tables, shelters, water tap and toilets. Parking is paid for on side of the playground, but free on the other.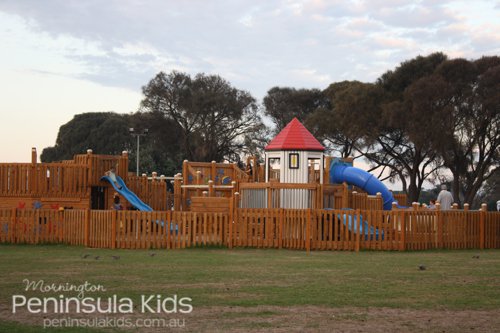 Other Rye Playgrounds include:
Bicentennial Park, Pt Nepean Rd (opposite Government Road)
Milton Reserve, Preston Street
R.J. Rowley Recreation Reserve, Melbourne Road