Kidds Day at Inflatable Land Mornington
By Yvette O'Dowd
Entertaining a toddler when it is too cold and wet outside can be challenging. They need lots of big movement to develop strong muscles and bones but playgrounds aren't always practical in winter.
The Kidds Days at Mornington Peninsula Inflatable Land offers a wonderful retreat for babies, toddlers and adults to explore in a safe indoor play space. It's the perfect solution.
We visited on a Wednesday morning. My daughter and I took along her nineteen-month-old son. We were impressed by how accessible the building was, with dedicated parents' parking right by the door on weekday mornings. Inside we found a multi-functional venue including an onsite cafe. We were greeted by smiling staff who made us feel welcome.
With a focus on the very young, this play space is designed for babies, toddlers and preschoolers under school age. Open from 9.30am to 3.00pm, it fits perfectly around school drop-off and pick up for families with older children. Parents groups are welcome.
They have thought of everything, with socks available for purchase if you forget to bring your own for the no-shoes play space! There are change tables in all toilets, making them accessible for every parent, and they have even provided spare nappies, just in case. There are healthy toddler meals on the menu as well as old favourites like party pies and cocktail frankfurts!
Our little one didn't need to be asked twice if he wanted to play! This age has a short attention span so having lots of activities to move between meant he could explore at his own pace and experience new challenges when he was ready. It was his first time in this kind of play environment and he couldn't quite believe his luck!
There was no chance of boredom with a selection of options to choose from.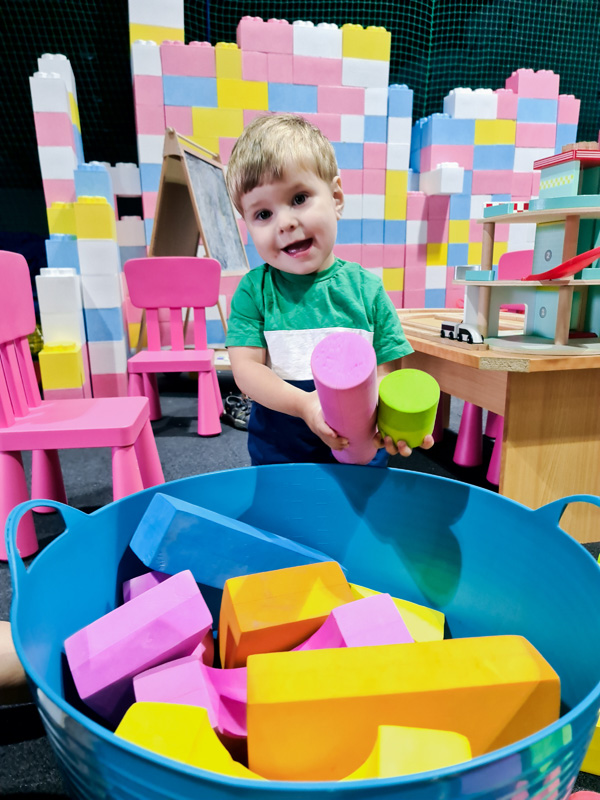 The balls were a big hit as was the climbing tower with a fun slide just the right size. The soft play zone offered opportunities to climb, jump, crawl and balance which kept our toddler focused for quite a while. Large foam blocks were great fun to build up – and knock down.
Ride-on toys, trikes and cars could zoom around the track and there is a jumping castle just the right size for little ones. A train table, play kitchen, cubby house and dedicated baby play area mean there is something for everyone. Our little one really enjoyed a mini basketball hoop at just the right height – it's the little things that make a big difference!
It was great to see crawling babies being able to play in a safe space with a range of toys to engage them. The relaxed atmosphere meant they could stop for a quick breastfeed on the go before resuming exploration.
Burning up all that energy meant it was soon time for morning tea.
We enjoyed a sweet treat with a coffee and a chai, while chicken nuggets (and sauce!) went down well with the little one. High chairs were readily available and there were plenty of tables occupied by parents and grandparents also taking a break. The cafe also provides alcoholic drinks for the grown-ups after 12pm. The seating was right beside the play area so children can be easily supervised while adults sit and chat.
It was hard to believe we had been there for two hours when our little one finally began to tire and it was time to go home for a nap. Kidds Day was a great activity for our little climber who loves exploring and trying new things.
$12 – Kids 1 to 4
$5 – Babies under 12 months
34 Milgate Dr, Mornington