By Stephanie Thompson
For those of us who know this famous breakfast cereal tagline, chances are you'll be one of the 50% of women affected by POP. Yep, you read that right 1 in 2 of us!
It's not the fun, yummy rice bubble kind. Far from it in fact.
POP stands for Pelvic Organ Prolapse. A pro-what? What's that? How do I fix that? These were my immediate words when I was told by my doctor that this is what I had.
POP is a medical condition when a woman's pelvic organs, such as the bladder, uterus and/or bowel, are no longer able to stay in the hammock shaped space called the pelvic floor. Instead, some or all of these pelvic organs slide out of place, with some descending so much they rest outside the vaginal opening.
If, like me, you thought this was something that older women suffer from…I'm sorry to be the bad news bear but think again.
How the hell is something so common, yet I had no clue? I felt stupid that I knew nothing about my own body. I was ashamed to talk about it with anyone. So, I went on pretending like nothing was wrong.
I had no idea of the severity or just how many women go through this.
I lived in silence and went to every doctor's appointment I could to find answers and treatment. I went to physiotherapy three times a week, did special pelvic exercises at home while pumping breast milk.
After about nine months nothing seemed to be working; there was no improvement. My sadness went to anger. I was so angry that this could have been prevented; it wasn't and there was nothing I could do about it now. I visited surgeons to try to have an operation; this also has a high failure rate.
My mission is to ensure that no other women live in silence. Ladies, it's time to talk openly about what was once considered secret women's business.
There are many causes that can contribute to the development of this condition, including pregnancy, vaginal birth, constipation, hormone changes, weight gain and more.
POP affects women of all ages in various ways. The severity of POP in individuals can vary dramatically and be graded from Stage 1 through to Stage 4.
Generally, women who are considered Stage 1 or 2 might feel little difference in their daily life. However, some women with Stages 3 and 4, feel their life, as they know it, is changed forever.
What organs and how much they slide out of place all depends on the grading you receive at diagnosis. This very notion of a diagnosis can be problematic in itself though.
You see, there are many factors to consider such as who is giving the diagnosis (physiotherapist, surgeon or urogynecologist), what time of day it is, if you're standing or lying down, where you are up to in your menstrual cycle or even how long you've been on your feet before the appointment. Technically speaking there are 4 grades or stages with grade 4 being the organ descending past the vaginal opening and hanging out.
Symptoms can be hard to describe. Some words used to describe symptoms include; pelvic pain, tensing, dragging, heaviness, back pain, painful sex, pain to walk, inability to toilet…it's hard work and demoralising.
These feelings never have a day off; it's day in and day out, 365 days a year. Over the years I've heard other POP sufferers utter the words 'I just can't live like this anymore'. Sounds intense but this is reality.
The mental and emotional toll it takes on the individual, family and friends are significant.
When you are told by medical professionals that what you are feeling is all in your head (yes that happens ALL THE TIME), or when you're told it's normal, it leaves you feeling very alone.
You can start to feel like you failed at something. Did I not birth right? Did I not look after my pelvic floor enough? You also feel like it's only you. You are the only person who must be going through this because you've never heard anyone around you talk about it.
To me, one thing was clear, I had POP following the traumatic birth of my beautiful girl. The use of forceps tore the pelvic floor muscle away from the bone, leaving my bladder, uterus and vaginal wall no longer able to stay in place and protrude out the opening of my vagina.
It was only when I had 4D imaging to see what actually was going on inside me that it was confirmed that I had a 'significant three compartment prolapse, with bilateral avulsions' (which just means muscle torn off the bone) and no amount of pelvic floor Kegel exercises were ever going to 'fix' my prolapses. So, I had to learn to live with it whether I liked it or not.
While there is no known cure or treatment currently available as such, typically, women are offered a non-surgical solution called a pessary.
This is a medical grade silicone device that comes in many shapes and sizes.
Pessaries generally are hard to 'stay in'. Believe me, I've tried seven different types and was professionally fitted at three different clinics.
Pessary designs have not changed in decades. However there is a change in the FemTech space to start creating 3D printed pessaries and new designs.This day cannot come soon enough for women with POP.
Most of the literature for upcoming medical professionals is also outdated. POP is talked about as a common and almost 'normal' part of being a woman. The true effects are not documented and therefore not understood. By this I'm referring to being told by a male Dr that POP 'wasn't that bad' and to just get on with life. What he failed to see was – me. And how I had to live this modified life everyday just to survive each day in this body.
I did the only thing I could do, and that was to ensure this never happens to my little girl. I was on a mission to try and educate everyone I could about POP and the things to be mindful of.
I wrote a book about it, created an online community for other women with POP and have since produced a short film and launched a podcast. I'm looking at every avenue to communicate this important message that we need to be learning more about our own health.
Health literacy is the only way we can really look at preventing this from happening to our girls.
While I might not be able to fully control what happens in my girl's life, I can live by my new favourite saying by Dr. Maya Angelou: 'When we know better, we can do better'.
---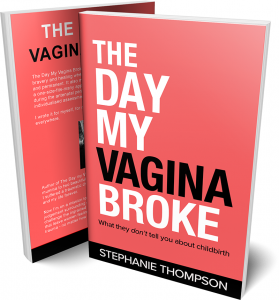 Stephanie Thompson is the author of The Day My Vagina Broke and chief Bravemumma. In 2015, Stephanie suffered a traumatic childbirth injury that changed her body and life forever. Stephanie is now on a mission to share her story and start conversations about how we view childbirth. She wants to do everything that she can to stop anything like this from happening to her daughter, Elsie.
FB: facebook.com/bravemumma
Insta: instagram.com/bravemumma
linkedin.com/in/stephanie-thompson-0963b353
Podcast: bravemumma.podbean.com
Web: bravemumma.com