Prep time: 20 minutes
Cook time: 10 minutes
Total time: 30 minutes
Serves: 4
Dough
2 cups chickpea flour

1 tablespoon gluten free baking powder

extra gluten free flour for kneading*

2 teaspoon smoked paprika

½ tablespoon salt

1 cup Greek yoghurt
Filling
50g pinenuts, toasted & chopped

2 tablespoons olive oil

1 red onion, diced

4 garlic cloves, crushed

2 teaspoons ground coriander

3 teaspoons ground cumin

¼ teaspoon sumac

¼ teaspoon ground cinnamon

1½ teaspoons smoked paprika

1-2 teaspoons salt

300g baby spinach leaves

½ cup hot water

200g feta, crumbled

2 handfuls fresh mint leaves, chopped

2 handfuls fresh parsley, chopped

3 spring onions, finely chopped

2 tablespoons olive oil

1 lemon, wedges
Method
To make the dough, sift flour with baking powder, paprika and salt into a mixing bowl. Sift again to make sure the baking powder is mixed through evenly. Add yoghurt and mix until the dough comes together. Flour behaves differently in different environments so you may need to add another ½ a cup of flour. You want a slightly sticky consistency.

Turn dough out onto a lightly floured surface. Knead for 5–8 minutes, until no longer sticky. Add more flour as you knead. It is ready when the top of the dough bounces back a little when pressed. Cut dough into 8.

In a dry frypan, toast the pinenuts on a medium high heat until golden, remove and roughly chop. Set aside.

Heat oil in a frying pan over medium–high heat. Add onion and cook for a few minutes until softened, then add garlic and cook for 30 seconds. Add spices until aromatic then add spinach, pinenuts and water and continue cooking until spinach has wilted (1 minute or so). Taste and add more salt or chilli if needed. Allow to cool slightly then stir through crumbled feta.

On a lightly floured surface (ideally a wooden board so the dough doesn't stick), roll out a portion of the dough, as thin as possible. Spoon a quarter of the spinach mixture onto half the dough, then top with mint, parsley and spring onions. Fold the dough over the top of the filling and seal the edges. Lightly roll out to remove air bubbles. Repeat with remaining dough and filling.

Heat the BBQ on high, then drizzle with olive oil and transfer Gozleme to the hotplate. Cook for 2-3 minutes on each side or until the dough has browned and bubbled slightly.
Serve sprinkled with spring onions and a wedge of lemon.
*Of course feel free to use normal plain flour if you are not GF!
---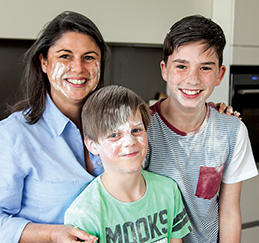 With so many of our Peninsula families affected by gluten intolerance and coeliac disease, we have decided to focus on recipes which can be enjoyed by GF and non-GF alike.
Jodie Blight has developed an amazing new App which enables you to scan the recipe from Peninsula Kids Magazine to create a shopping list on your phone. All in the name of making dinner time easier.
Endorsed by Coeliac Australia so you have peace of mind that every recipe is 100% gluten free.
Download the recipeezi Gluten Free App from the App Stores (it's FREE), use the App to scan the recipe QR code and voila, your shopping list awaits!
Even if you are not GF, I promise you will love every recipe.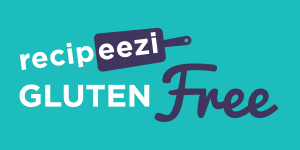 Peninsula Kids – Autumn 2019