My lil' ones loves cutting and pasting, so we turned her favourite art activity into a Christmas tree!
You will need:
A4 coloured paper/card (for background)
Decorative paper to cut strips (wrapping paper, scrapbooking paper)
Yellow and brown paper/card
Scissors
Glue
TIP: Fold A4 paper in half (before you decorate) and make your own Christmas cards
How to:
1. Prepare by cutting all the strips (approximately 1cm wide). Make sure you have different lengths so that the tree can start wide at the bottom and thin as it gets to the top. Also use the yellow and brown paper to cut out a star and tree trunk.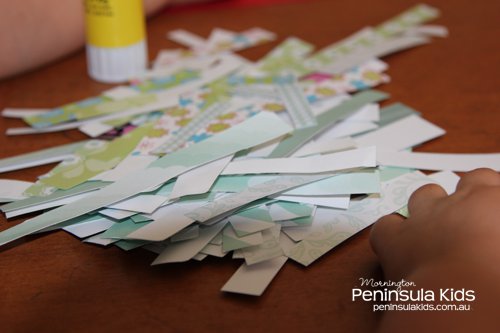 2. Glue trunk at the bottom and then begin with the longest strips.

3. Let the kids paste some strips in different directions to give each tree its own unique appearance.

4. Continue until you near the top. Now paste the yellow star and you're finished!