Roast beef can be very easy to cook. It's all about the thickness of the meat. So follow this easy recipe and you will produce the most amazing roast beef, every time! The quantity in this recipe is doubled so you can enjoy a quick and easy meal during the week. Service green beans and roast cherry tomatoes, and make extra to give yourself a head start for beef tacos through the week.
Prep time: 5 minutes
Cook time: 25 minutes
Total time: 40 minutes
Serves: 8 (4 + more)
Ingredients
2 beef fillets
1-2 tablespoons olive oil
2 garlic cloves, crushed
ground black pepper
Red Wine Sauce
1 tablespoon olive oil
½ red onion, finely chopped
1 garlic clove, crushed
1 cup dry red wine
2 cups beef stock
4 sprigs thyme
pepper to taste
Method
Remove the beef from the fridge and allow it to come to room temperature (about 1 hour).
Preheat oven to 240°C. Rub oil and crushed garlic over the beef and season with pepper.
Heat frying pan over high heat and sear the beef until brown all over (about 4 minutes).
Place beef on a rack in a roasting tin and cook in oven for 20-30 minutes. This will give you medium-rare/medium beef. Subtract 5 minutes if you like it rare or add 10 minutes if you prefer well done.
To make red wine sauce:
Wipe the frying pan clean to remove remains of cooked garlic, as this will now be bitter. Place frying pan on medium heat, add oil, and cook onion until softened (about 4 minutes). Add garlic, cooking for a further minute. Then add wine and bring to the boil. When reduced (approximately by half), add stock. Again bring to the boil then reduce heat and simmer for 10 minutes. Add thyme leaves and season with pepper.
When beef is cooked, remove from oven, cover and rest for 10 minutes. Carve slices across the grain and serve with red wine sauce.
Use this table for the best timing based on the thickness of meat:
| Weight | Thick | Wide | Long | Time |
| --- | --- | --- | --- | --- |
| 800g | 5cm | 11cm | 20cm | 30 min |
| 690g | 4.5cm | 11cm | 20cm | 25 min |
| 690g | 4cm | 11cm | 20cm | 20 min |
---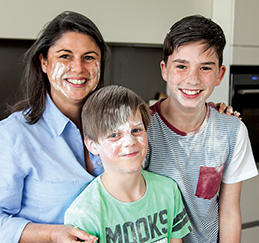 Jodie Blight | We're all busy and want quick, healthy and delicious meals but sometimes just don't have the time. Summer TABLE will inspire you to put variety and zest back into your mealtimes and with a free APP to create a shopping list on your phone, dinner will be ready in no time! And – you learn how to use leftovers in innovative new ways.
After years working as a company director in the finance industry, starting a family and moving half way around the world, Jodie Blight discovered her passion – creating healthy, easy and delicious family meals. "A fist pump from the kids is as good as a Michelin star in my books."
To find out more about this revolutionary cookbook, please visit www.hellotable.com.au or find us on Facebook at www.facebook.com/hellotable