The roast you have when you are not having a roast. A refreshing salad using the extra green beans, roast cherry tomatoes and beef cooked for the Sunday roast! If you don't have leftover green beans, cook some up; they don't take long.
Prep time: 10 minutes
Cook time: 0 minute
Total time: 10 minutes
Serves: 4
Ingredients
4 handfuls rocket leaves
½ red onion, finely sliced
100g steamed green beans, cut into 2 cm lengths
250g roasted or fresh cherry tomatoes or fresh
1 whole roasted red pepper, cut into strips
400g roast beef, thinly sliced
1 handful basil leaves, chopped
1 handful sunflower kernels, toasted (optional)
Dressing
6 tablespoons olive oil
2 tablespoons red wine vinegar
1 tablespoon Dijon mustard
Method
Arrange rocket, onion, green beans, tomatoes, red pepper on a salad platter or individual plates and top with the beef.

To make dressing, shake olive oil, vinegar and mustard in a jar until combined. 3. Taste and adjust to your liking. Pour over salad and gently toss together.
Sprinkle with basil and sunflower kernels.
Instead of using raw red onion, why not try using Pickled Red Onions they add a great tang.
---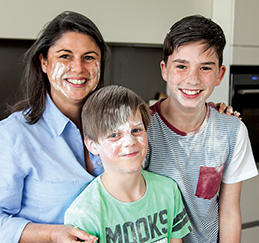 Jodie Blight | We're all busy and want quick, healthy and delicious meals but sometimes just don't have the time. Summer TABLE will inspire you to put variety and zest back into your mealtimes and with a free APP to create a shopping list on your phone, dinner will be ready in no time! And – you learn how to use leftovers in innovative new ways.
After years working as a company director in the finance industry, starting a family and moving half way around the world, Jodie Blight discovered her passion – creating healthy, easy and delicious family meals. "A fist pump from the kids is as good as a Michelin star in my books."
To find out more about this revolutionary cookbook, please visit hellotable.com.au or find us on Facebook at www.facebook.com/hellotable