Explore the treasures of your local area. If you're on the lookout for fun (and free) ideas to entertain the kids, take them on an artistic treasure hunt with a self-guided street art tour of Frankston CBD to discover incredible artworks created by some of the world's best street artists.
There are over 30 artworks to discover on your adventure, but here is a snapshot of some of the more popular ones for kids!
Alice in Wonderland and Nutcracker
MELBOURNE'S MURALS – FRANKSTON.  Location: Frankston Library
Alice in Wonderland is a classic that people of all ages know and love. Brigitte and Melissa from Melbourne's Murals painted these mazing artworks which also feature the Nutcracker ballet, giving the Frankston library forecourt a colourful and friendly entrance. This is the perfect visual story to engage children heading into Storytime at the library, or to choose new books to escape into. Can you spot your favourite character?
Whilst at the library, make sure you check out the Stacked Bookshelves artwork on the Playne Street facade of Frankston library. Brigitte and Melissa chose to paint books that represent local authors, adding Rascal the Dragon (a character from Paul Jennings books) as a fun interactive touch for the kids. What's your favourite book?
All the Green Year
MELBOURNE'S MURALS – FRANKSTON.  Location: Thompson Lane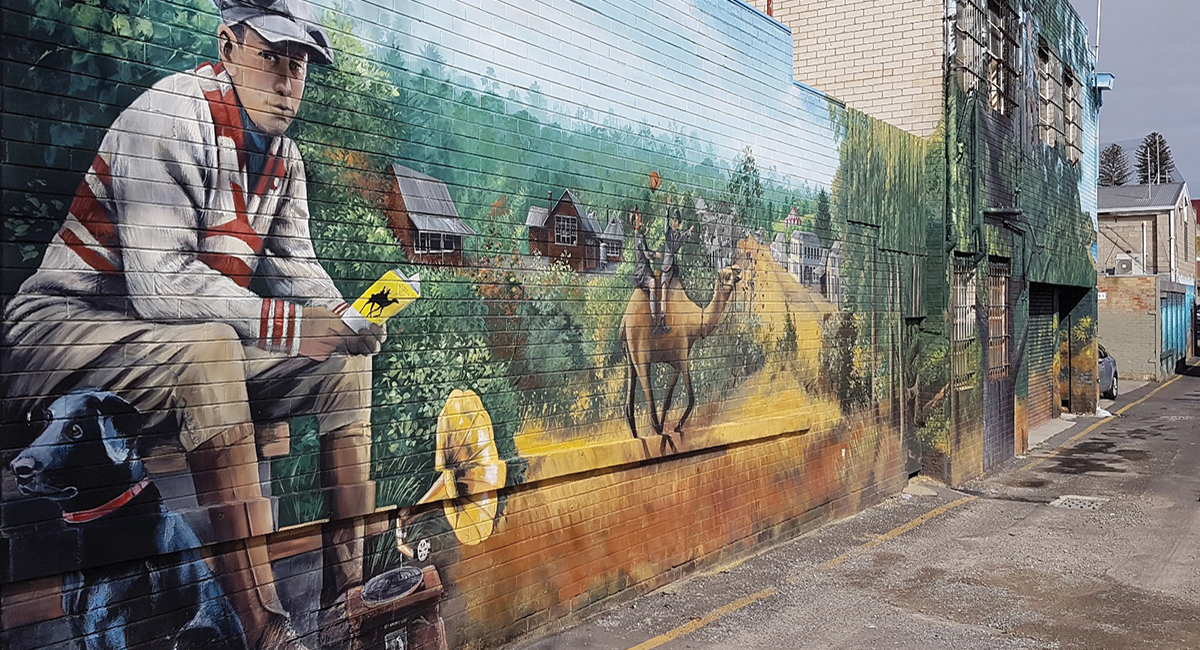 Down the street and around the corner in Thompson Lane, you'll find another treasure painted by Melbourne's Murals Brigitte and Melissa. All the Green Year honours Don Charlwood, an author who lived in Frankston. He wrote a classic tale about a boy called Charlie Reeve and his journey towards adulthood living in a small town on the Mornington Peninsula. What animals can you spot in this picture?
Plover Lover
DVATE.  Location: Wells Lane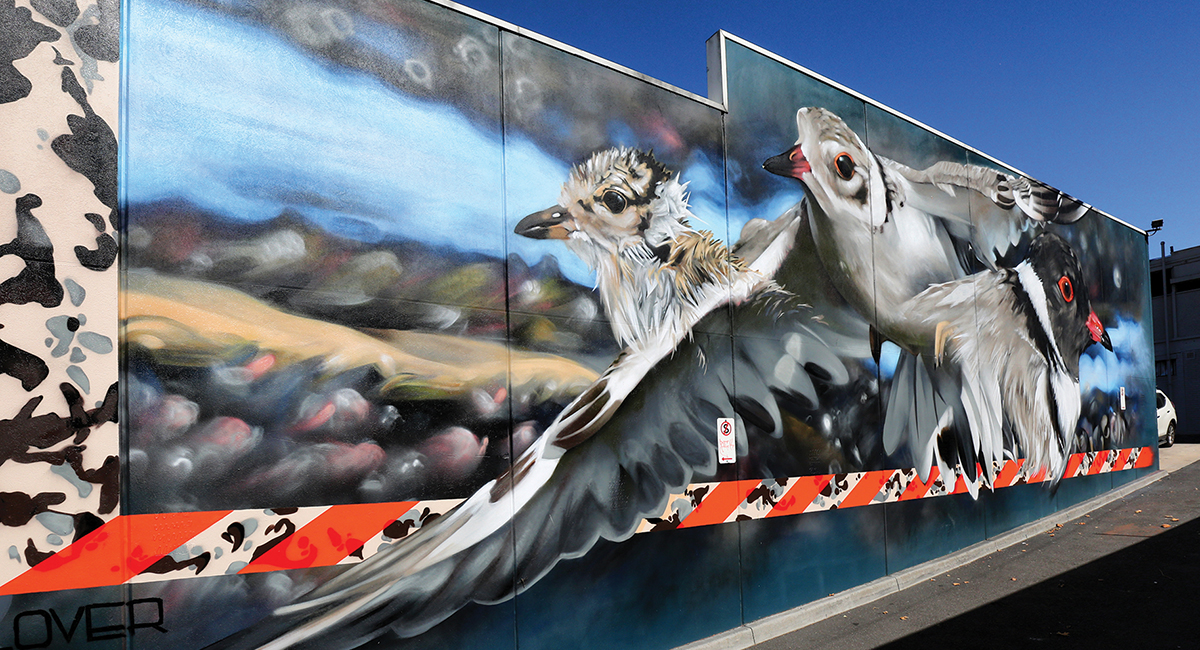 Created by artist Jimmy Dvate, Plover Lover in Wells Lane was inspired by local flora and fauna and features the hooded plover which is a local endangered species. This incredible artwork shows the various life stages, from egg, chick, fledgling to adult, all surrounded by abstract hazard tape as a symbol of their vulnerability. Have you ever seen a hooded plover at the beach?
Students Against Graffiti
Local Primary and Secondary Schools. Location: Wells Lane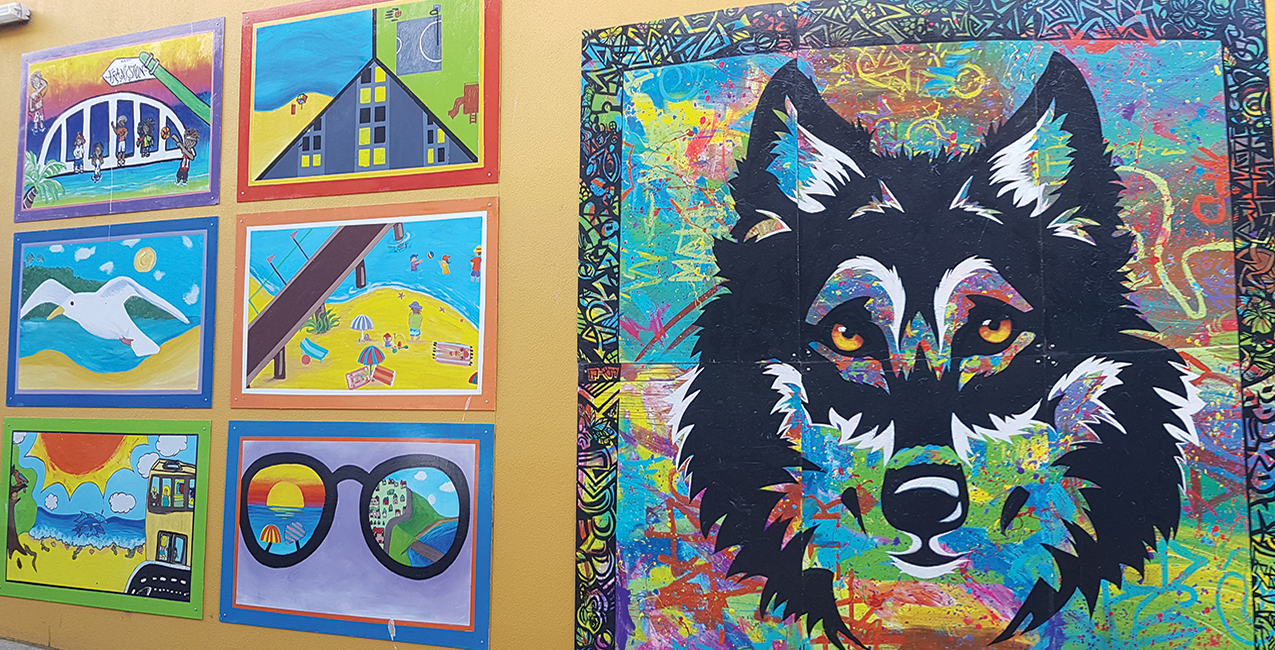 Further down Wells Lane you'll discover artworks painted by local primary and secondary schools titled Students Against Graffiti! Students worked from brief, to concept, to application on this artwork. The wolf was chosen deliberately with an inspirational quote for the kids: "FOR THE STRENGTH OF THE WOLF IS THE PACK AND THE STRENGTH OF THE PACK IS THE WOLF".
The six featured panels were competition winners.
Flower Girl
MELBOURNE'S MURALS – FRANKSTON (Vicinity Commission). Location: Ross Smith Avenue East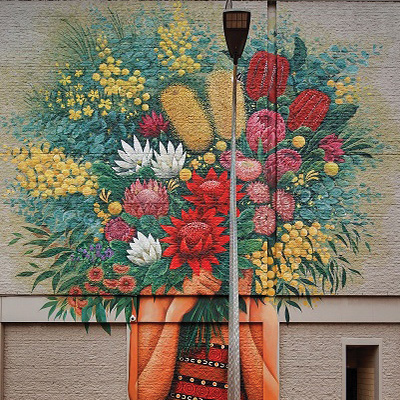 A beautiful, earthy mural named Flower Girl can be found in Ross Smith Avenue East. Another impressive large-scale artwork by Melbourne's Murals, this painting honours local native flowers and the girl's Indigenous dress pattern was designed by local Bunarong artist, Brianna Webster.  Do you think the girl is smiling behind these flowers?
You're Not Forgotten
STRONG WILL STUDIOS, LLC (US). Location: Gallery Lane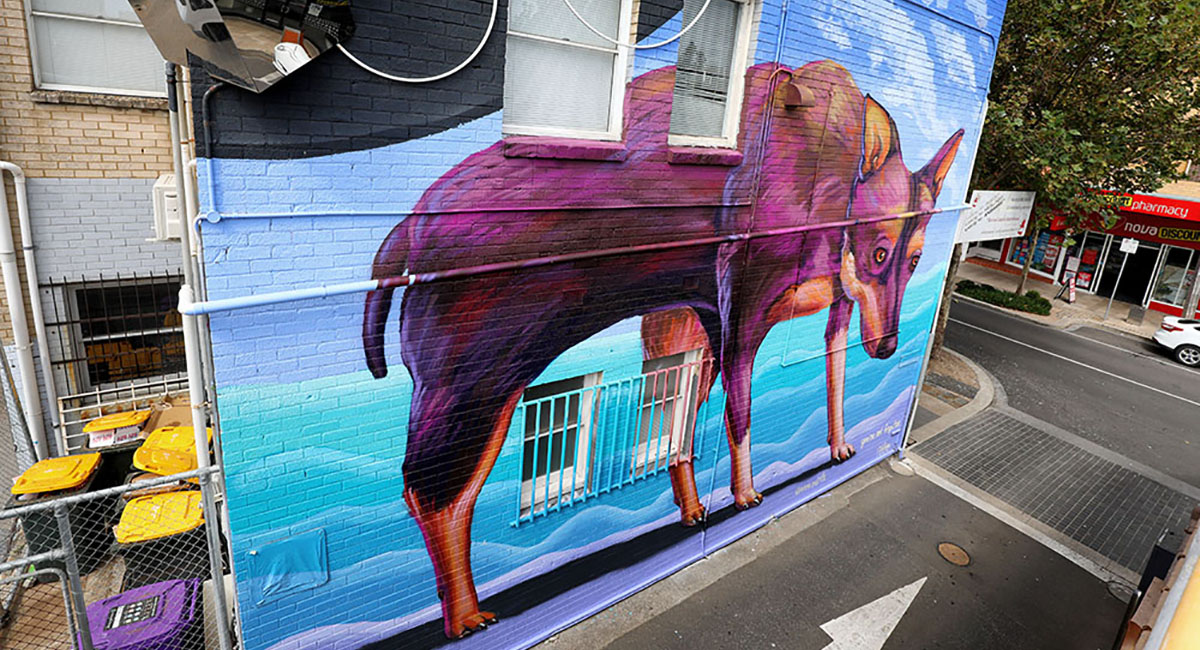 Keep exploring down Gallery Lane and you'll find a giant artwork featuring an 8-metre high Australian kelpie! Created by Helen Martin of Strong Will Studios (USA), it is the artist's hope that the viewer will feel connected to the dog and therefore not be alone. How do you feel when you look at this amazing art?
Purple Platypus in Pollution
Mike Makatron. Location: Gallery Lane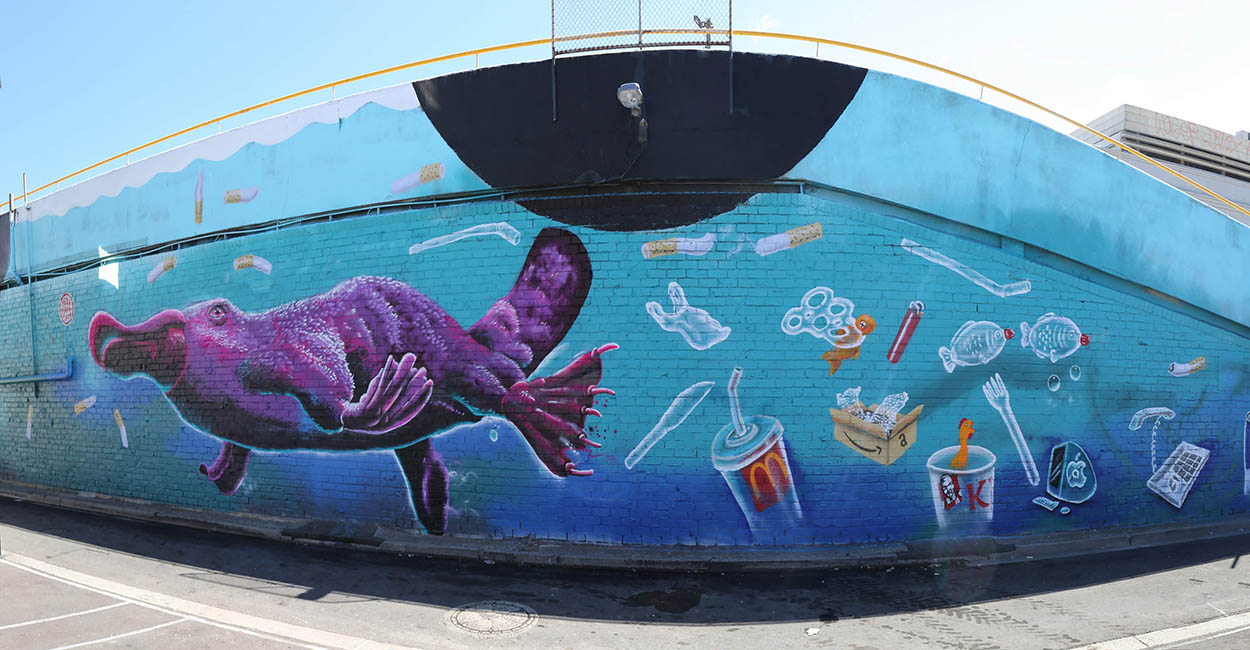 Purple Platypus in Pollution highlights the human cause of plastic in our environment, and its effect on nature. The artwork references the classic theme of message in a bottle. If you look closely, can you spot the letters in the artist's name (Makatron) within the artwork?
Fearless
MELBOURNE'S MURALS – FRANKSTON. Location: Stiebel Place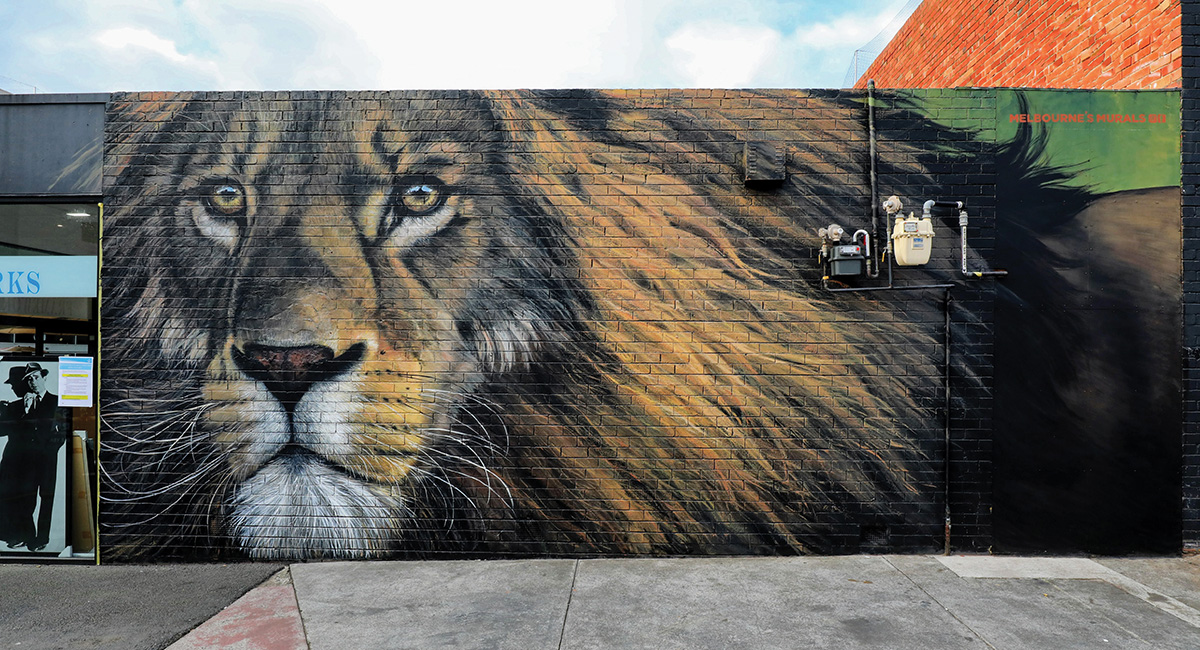 Another new artwork added in 2020 is Fearless by Melbourne's Murals. The perfect piece to admire before stopping for a drink or snack, Fearless features the face of a lion to remind us in these turbulent times to be brave and fearless.
Download a map from www.visitfrankston.com/see-do/murals-street-art or drop into the Visitor Information Centre at Frankston foreshore to pick up a map.