By Rebecca Fraser
The emotional and educational benefits of creative writing have been celebrated for years. Taking pen to paper – or fingers to keyboard – to tell a story is not just a springboard for a literary work; it's considered a powerful tool for social, academic, and emotional wellbeing.
This is especially true for children. Author VS Pritchett once said, "Writing enlarges the landscape of the mind." It goes further than that though. When it comes to the benefits of creative writing for kids, especially those who may struggle to express themselves, their thoughts, or feelings, creative writing offers a way to channel their emotions and harness their imaginations into a vehicle of self-expression.
As a workshop facilitator for children of every age and ability, I'm always interested in how, through storytelling, kids explore their moral compass, and tap into their understanding of the world around them. Whether their stories feature mermaids or unicorns, or school principals, farmers, or astronauts, the way they portray characters and the plots they star in consistently deal with issues and themes that are relatable and relevant to today's youth.
Additional benefits of creative writing for kids are multifaceted and include:
Problem solving and analysis. By using their imagination and flexing their creative muscle to come up with plots, alternative solutions, and organise their thoughts and ideas, kids are learning to think beyond the square and actively seek fresh ways of identifying, assessing, and tackling problems.
Self-confidence. I often encounter children who are full of doubt about their ideas and abilities. Creative writing offers a safe and supportive environment for them to find and express their voices. It's so rewarding when kids who come to a workshop feeling nervous are sharing their work with pride and enthusiasm by the end.

Discipline and Persistence.

It takes time to organise your thoughts, create characters, dramatic plots, and interesting settings, and then put them into a cohesive sequence. Creative writing is a fun way to develop tenacity within kids … they often get so caught up with their tales they'll spend hours working on their stories completely unbidden.
Inquisitiveness and Research Skills. Kids by nature are naturally curious. Writing creatively allows them to take it one step further by igniting a desire to learn more about something to enrich their tale, get facts right, or make it more believable. I've seen many kids become mini experts in their field of interest – whether it's avalanches, panning for gold, the atmosphere on Mars, or how to slay a vampire!
The Benefits of Creative Writing Workshops
"Strong creative thinking and learning skills are critical to students' social and emotional wellbeing, academic achievement and lifelong learning," said Professor Robyn Ewing, discussing a research project by The University of Sydney commenced in 2015. The project studies the benefits of creative writing workshops for children and findings to date include:
A significant improvement in writing quality
Increased engagement with writing, for longer periods
Better planning, organisation and ideas
Enhanced ability to reflect and self-evaluate
Increased confidence to work with others, and
More willingness to talk to people, particularly adults.
5 ways to encourage creative writing at home:
Encouraging creative writing at home is easy, and a great way to keep kids entertained, especially with winter on our doorstep!
Kids love to entertain. Ask your child to share their work with you, really listen, then ask, "What happened next?" Your enthusiasm and praise will motivate them to continue with the next instalment.
Collaborate. Some children like to write solo, others enjoy collaborating with others. For those that enjoy teamwork, invite a friend over for a 'story session'. Kids can create a story together, or take it in turns to contribute to an unfolding story, each adding their own next line or paragraph.
Don't focus on spelling, punctuation and grammar. I teach kids of every age and ability – some with ASD, ADHD, Dyslexia and Dysgraphia. For them, the freedom to write from their hearts unhindered by their challenges is invaluable. Support your kids if they request it, but keep the focus on their story, rather than any errors they have made.
Stationery Supplies. Never underestimate the power of fun, funky stationery to get your kids motivated! Notebooks, journals, pens and pencils are inexpensive and plentiful. From glitter and rainbows, to robots and space stations, let them choose their favourite writing tools.
Creative Writing Workshops. Creative writing workshops are specifically tailored to children's' ages, abilities and interests. They make for a great school holiday activity and are a fun, engaging way to learn different elements of the craft of writing in a supportive environment.
Source cited:
sydney.edu.au/news-opinion/news/2015/10/20/creative-writing-boosts-kids-confidence-and-creativity.html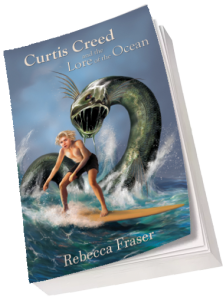 ---
Rebecca Fraser operates StoryCraft Creative Writing Workshops for aspiring authors of every age and ability. storycraftworkshops.com.au
Mount Martha-based author, Rebecca Fraser, has added another publication to her list of credits with the release of her fantasy adventure novel, 'Curtis Creed and the Lore of the Ocean' through IFWG Publishing Australia.
Set in the fictional coastal town of Midnight Cove, the story centres around thirteen-year-old Curtis Creed, a talented surfer whose life has been turned upside down. While the novel sits comfortably on the middle grade / junior teen shelf, Fraser hopes the book will appeal to a broad readership, especially those with a love of the genre, and a penchant for Australian settings.
Curtis Creed and the Lore of the Ocean taps into issues and themes relevant to today's youth: grief, friendship and family dynamics, mental health, environment, identity, overcoming fear, and courage in the face of adversity.
"Today's kids deal with such adult-sized problems," says Fraser. "I wanted to highlight them in a relatable way, and Curtis's character was a great vehicle for this."

Available through all good bookstores and online bookstores. Prices may vary.