Born with Asperger's syndrome, Queensland brothers Haydn and Damien Crespan have endured significant challenges. Haydn has written stories all of his life and, despite the added challenge of being colour blind, Damien has always loved to draw. Together, the writer and illustrator have overcome adversity to release their debut children's book, The Adventures of Triz the Babysitter. 
Set in prehistoric times, the story features Triz, a small flying lizard who represents the Crespan brothers' perseverance. Triz is entrusted by his good friend Marjorie to babysit her unhatched egg for the day.
Things don't quite go to plan. The chick hatches and, time after time, the little runaway ventures into danger, causing Triz to stare death in the face. Does Triz give up? Not a chance! Triz teaches children that no matter what life throws at you, if you focus on your goal, you will succeed.
"I see myself in Triz," author Haydn says. "Like me, he is faced with many challenges, but even when things go wrong, we have a choice. We can choose to give up or we can keep going. If we stop, that is where we will remain, but if we keep going, who knows where we will end up and what surprises might lie around the corner? Persistence is the key to happiness."
Book illustrator Damien's autism has always made it difficult for him to interact with people, and he suffers panic attacks. As a way to cope, he started drawing when he was two years old. "My parents didn't know I was any different to other kids at kindy until a teacher told them I was a gifted artist," Damien said. "Our differences turned out to be the gifts that set us apart." But when it comes to colour, Damien admits, "My eyes suck. The program I use now has a section with coloured squares; if I hold the cursor over one, it will say red, blue… and I trust it. You have no idea how many times I've drawn a purple sky!"
Throughout their childhoods, Haydn and Damien's devoted mother Debra managed their emotional meltdowns, poor social skills, sensory issues and anxiety, while also working fulltime, and attending endless appointments with speech pathologists, occupational therapists, and psychologists. Haydn's passion was always writing, while Damien sat in the background, drawing. Damien started studying animation at Griffith University where, aged thirty-two, he was also diagnosed with bipolar and Tourette's syndrome and was unfortunately unable to finish his studies due to his mental health. Debra has always encouraged her sons by saying, "Don't look at what you can't do, look at what you can do and go for it."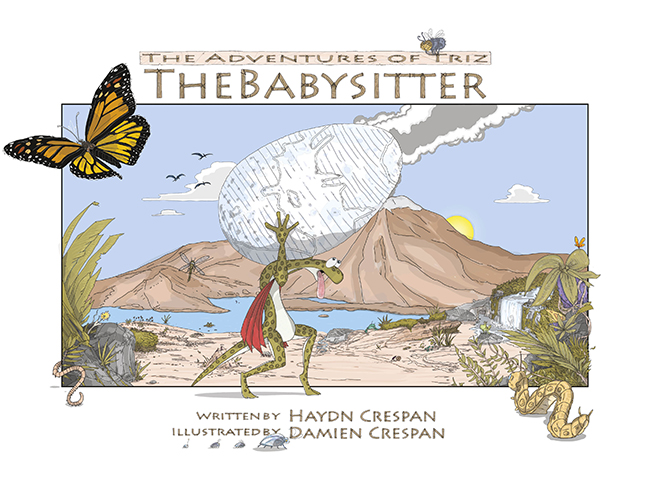 Autism is a neurological difference, a different way of thinking. The word 'spectrum' reflects the diversity of people with autism, including those with high-functioning autism, or Asperger's syndrome 
An estimated 1 in 70 Australians is on the autism spectrum 
Up to 20% of autistic people have exceptional skills in one or more areas, such as reading, maths, art, mechanics or music
---
Haydn and Damien Crespan are not only creative and talented, they are resilient, determined and inspiring, just like their adorable character Triz, the flying lizard.
This fun story is full of cheeky, laugh out loud moments, and the lively artwork is sure to fuel young imaginations. Published and printed in Australia by Boolarong Press, a small, family-owned publishing house based in Brisbane, Queensland.
You can purchase the book at all good bookstores and online at boolarongpress.com.au