My 11-month-old son recently had a double ear infection, a heavy cold and severe conjunctivitis. My poor baby was very unhappy but even unhappier because treatment meant regular doses of pain killers, antibiotics, eye drops and saline cleaning solution for his poor sore, gunky eyes. There was lots of yelling and crying at medicine time: he particularly hated the taste of the antibiotics (which he tried to avoid or spit out) and just screamed when he saw the eye drops coming (while screwing his eyes tightly shut).
I know there are many of us experiencing the same problems with administering medicine to children, especially in the middle of cold and flu season, so I thought we could do with some tips from an expert to help us out.
Dr Michael Aizen is the senior doctor at Epichealth's Mornington clinic and has some fantastic tips for us below. Dr Aizen has over 35 years experience practising family medicine and has returned to the Peninsula after eight years in rural Tasmania to be closer to his young grandchildren.
Q: Dr Aizen, can you help us out with tips for administering eye drops to a baby?
A: This is a very common problem. It is important to administer eye drops every four hours for them to be effective. The most commonly encountered problem is the temperature of the drops. Mistakenly, eye drops are kept in the refrigerator. The sudden instillation of cold drops is a shock to the system and is very unpleasant. Keep eye drops at room temperature in a medicine cupboard or kitchen pantry for the entire duration of treatment, usually three days for conjunctivitis.
Where possible, seek assistance from someone else to hold baby's head still and distract him or her with rattles or similar. The eyes will move across to follow the sound. When the pupils are out of line of sight the drops will enter effortlessly.
Q: How about negotiating with older kids (say 3-5 years) who need eye drops?
A: It is difficult to negotiate with small children. Some three-to-five-year olds will be naturally cooperative. As above, the eyes should be moved inwards or outwards, out of the line of sight when the drop is introduced.
Q: What is the best way to administer liquid antibiotics to a baby? 
A: Eye droppers are the best way to administer oral antibiotics, particularly if given in small amounts. Do not put them in bottles with formula because you cannot guarantee that the entire feed will be taken.
Q: And older kids who need antibiotics?
A: Again, it is difficult to reason with children this age. Story telling is a way around this. There are picture books that are instructive for children this age.
Q: I understand you've been practising family medicine for over 35 years, what's changed in administering medicine to kids since you started? Did a spoonful of sugar or honey really used to help the medicine go down?
A: When prescribing antibiotics for children I always consider flavour as well as the class appropriate for the infection. Many have attractive strawberry and banana flavours. In extreme cases it may be necessary to "do a Mary Poppins" and help the medicine go down.
---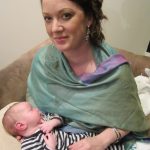 Rebecca Bowyer is a regular blogger with Mornington Peninsula Kids. You can read more of her blogs at Seeing the Lighter Side of Parenting and follow her on Facebook or Twitter.