This is one for the adults. The perfect way to finish a meal and you can pretend it is healthy because you are eating fruit. No double dipping! Replace the Tia Maria with a teaspoon of vanilla essence for a kids' version.
Prep time: 2 minutes
Cook time: 0 minutes
Total time: 2 minutes
Serves: 4
Ingredients:
3 – 4 tablespoons Tia Maria
1 tablespoon caster sugar
250g mascarpone cheese
rockmelon wedges
strawberries
grapes
Method:
Stir Tia Maria and sugar in a bowl until the sugar starts to dissolve. Add mascarpone and stir until combined and smooth. Taste and add more Tia Maria or sugar if needed.
Refrigerate until ready to serve.
---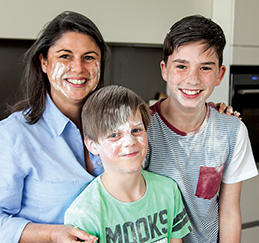 Jodie Blight | We're all busy and want quick, healthy and delicious meals but sometimes just don't have the time. Summer TABLE will inspire you to put variety and zest back into your mealtimes and with a free APP to create a shopping list on your phone, dinner will be ready in no time! And – you learn how to use leftovers in innovative new ways.
After years working as a company director in the finance industry, starting a family and moving half way around the world, Jodie Blight discovered her passion – creating healthy, easy and delicious family meals. "A fist pump from the kids is as good as a Michelin
star in my books."
To find out more about this revolutionary cookbook, please visit www.hellotable.com.au or find us on Facebook at www.facebook.com/hellotable