Tabbouli, tabouli, tabbouleh, or parsley salad. No matter what you call it, this is a dish only to be eaten with your nearest and dearest friends and family – the ones who will tell you when you have parsley stuck in your teeth, and believe me it will happen. This is not traditional, but is a delightfully fresh salad for a hot day.
Great served with lamb, chicken or baked pita bread.
Prep time: 10 minutes
Cook time: 20 minutes
Total time: 30 minutes
Serves: 4
Ingredients:
½ cup quinoa
1 cup chicken or vegetable stock
2 tomatoes, finely diced
2 spring onions, finely chopped
1 Lebanese cucumber, seeds removed, finely diced
1 bunch Italian parsley leaves, finely chopped
½ bunch mint leaves, finely chopped
1 garlic clove, crushed (optional)
1 lemon, zest and juice
salt and pepper
Method:
Heat saucepan and add quinoa to toast for a few minutes until it starts to crackle. Remove, rinse and then place back in the saucepan. Add stock and bring to the boil. Place a lid on the saucepan, reduce heat to medium–low and simmer for 15 minutes. Don't lift the lid. When time is up, remove from the heat and stand for a further 5 minutes without lifting the lid. Allow to cool. To speed up the process,
spread on a plate or tray.
Pat herbs and tomato dry with paper towel before placing them in the bowl. This helps stop the salad from turning soggy. Combine tomato, spring onion, cucumber, parsley, mint and garlic, and mix them in a small salad bowl with salt and pepper.
Zest the lemon, then squeeze the juice and add both to the salad bowl. Finally add the cooked and cooled quinoa and toss together.
This salad is best served immediately.
---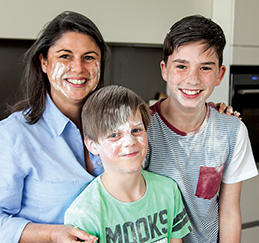 Jodie Blight | We're all busy and want quick, healthy and delicious meals but sometimes just don't have the time. Summer TABLE will inspire you to put variety and zest back into your mealtimes and with a free APP to create a shopping list on your phone, dinner will be ready in no time! And – you learn how to use leftovers in innovative new ways.
After years working as a company director in the finance industry, starting a family and moving half way around the world, Jodie Blight discovered her passion – creating healthy, easy and delicious family meals. "A fist pump from the kids is as good as a Michelin star in my books."
To find out more about this revolutionary cookbook, please visit www.hellotable.com.au or find us on Facebook at www.facebook.com/hellotable