Maternity bras sound complicated but soon you will be an expert. There are many changes to your body throughout pregnancy and breastfeeding, and one of them is coming to terms with changing the style of bra you are used to wearing.
Over the course of the motherhood journey, your breasts will undergo a multitude of changes and require additional support. Specialists in maternity bras, Bendon Lingerie, design with maximum comfort, support and ease of use; specifically meeting the needs of pregnant women. They are there to celebrate and support you by providing you with the maternity bra styles and information you'll need.
Why is it important to purchase a maternity bra?
Pregnant women very quickly outgrow their regular bras, and while it may be tempting to make do with the bras you have, your breasts will require some comfier support. Both during and after pregnancy, the breasts undergo numerous changes such as enlarging, becoming heavier, denser, and more sensitive. Even though not all women gain weight, the diaphragm and rib cage will expand to allow room for the baby to grow. Therefore, while every woman is different, it's not uncommon to go up two to four band sizes (the measurement around your body under your breasts) and two to four cup sizes during pregnancy. Therefore, it's paramount that you are wearing a professionally fitted bra specifically designed to allow for growth and comfort.
While it is personal choice, we highly recommend wearing a soft cup wire-free bra during and after pregnancy. As your breasts are constantly changing during pregnancy and breastfeeding, you may find that having no underwire is a lot more comfortable. Wires can push into where the milk ducts are forming, which can cause discomfort and may cause damage/block milk flow leading to mastitis which is very painful and prevents feeding.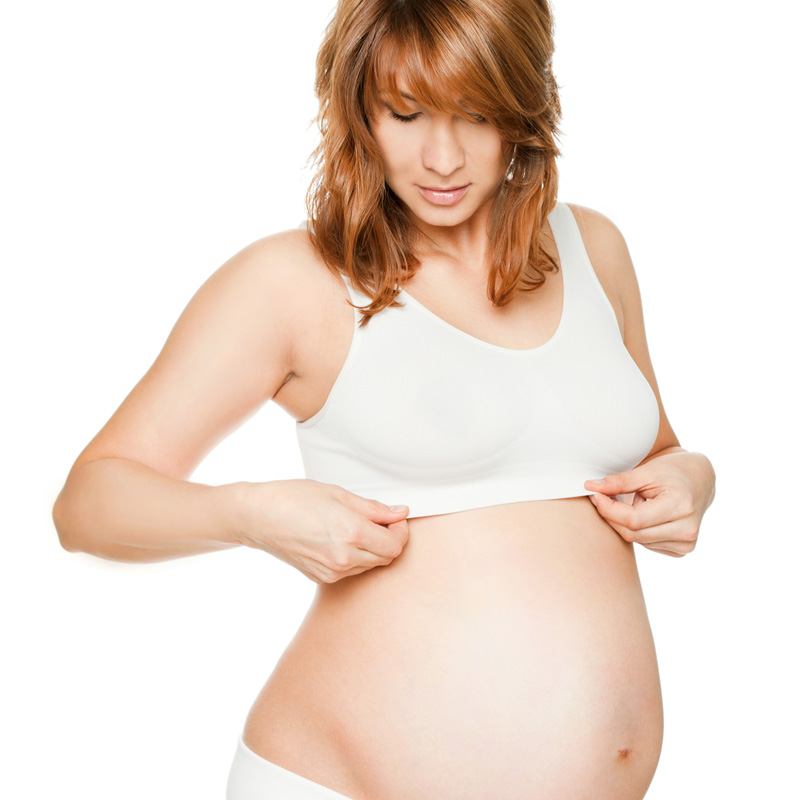 When do I know it's time for a maternity bra?
Every woman is different, every pregnancy is different, and your breasts will change in a way that's unique to you. Depending on how you grow, you may need to go bra shopping several times throughout pregnancy.
We recommend you have your first maternity fitting when your bras start to feel uncomfortable and your breasts start to change – typically this tends to be just after your first trimester (first three months).
During the second and third trimesters (six-nine months), we recommend coming in store for a follow-up fitting, as you will most likely need to go up a size to keep up with your expanding bust and allow for baby growth in your diaphragm.
Typically, women will grow at least another cup size a few days after birth when your milk comes in.
What are the features of a maternity bra?
Bendon Lingerie fit experts are professionally trained at providing you with a well-fitted bra that allows for growth, comfort and suits your personal preferences that you can wear throughout the day, and night.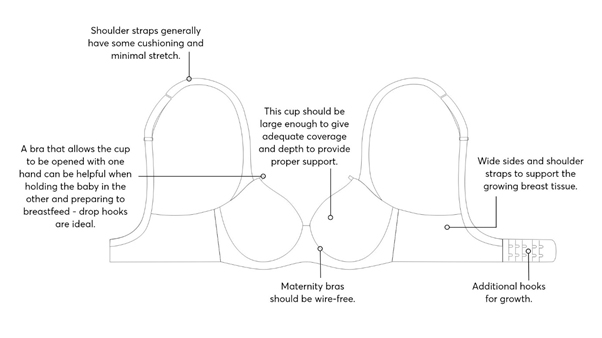 ---
Bendon Lingerie maternity bra must-haves:
Bendon Classic Comfort Maternity Bra
Available in sizes 10–18, C-F cup.
Customers said:
"This bra ticks all the right boxes – it is a lovely style, practical, supportive and comfortable to wear. I highly recommend." – Carla. F
"I love the style and fit of this bra, has all the support you need with the added bonus of it being a bit sexy." – Gabby
"My fav nursing bra after purchasing a few from Bendon's maternity selection. Comfortable, durable and as pretty as maternity bras get. Purchased one of these bras with other Bendon maternity bras and loved this one so much, purchased another a week after :)" – Kirstin
me. by Bendon Elodie Maternity Bra
Available in sizes 10–16, C-G cup.
Customers said:
"Of the various brands of nursing bras that I've purchased, this is my favourite – in fact I just purchased another 3! The material is so soft & comfortable, the cups have no seams so there's no rubbing or need for nursing pads. It's also kept its' shape well & hasn't stretched so that it still fits well even after 18 months of use. Highly recommended! " – Karen. G
"Super comfortable nursing bra that holds everything in. Had the same bra 5 years ago and still the most comfortable one I've tried and loving the expander on the new design." – Michelle. H
"As a larger busted woman, it's very difficult to find comfortable supportive maternity wire free bras. This bra ticks every box! So soft to touch, supportive and I'm finally not in pain! Will be buying another!" – Kate. F
"After wearing the wrong size bra for years including 32 weeks of pregnancy I finally got fitted and found a bra that didn't leave red marks all over! The clips are super easy to use for when baby needs a feed quickly and I don't rush home to take my bra off at the end of the day." – Shai-Nika. C
me. by Bendon Simply Me Maternity Bra
Available in sizes XS–XL.
What you'll love:
Easy feeding with pull-aside cups
Modal cotton fabric is smooth and soft against the skin
Adjustable straps let you tailor it to your perfect shape Internal support when feeding
Extra long hook and eye adjustment to guarantee the perfect fit during the different stages of pregnancy and nursing as your size changes
me. by Bendon Zoe Maternity Bra
Available in sizes 10–16, C-G cup.
Customers said:
"This bra is comfortable and accommodating for the extra weight that comes with pregnancy. Super cute when paired with matching bottoms." – Hannah R
bendonlingerie.com.au/women/bras/maternity