Tasty, fresh, healthy, and teamed up with tangy Vietnamese Dipping Sauce, these rice paper rolls are sure to please. They look very impressive but are relatively easy to make. There is a bit of chopping involved, but it is well worth it. And they make great finger food for a summer party. Assemble rice paper rolls at the table so everyone can make their own (this works with fussier eaters).
Prep time: 15 minutes
Cook time: 0 minutes
Total time: 15 minutes
Serves: 4
Ingredients
100g vermicelli rice noodles [pullquote]As a special treat make rice paper rolls for a delicious afternoon snack.[/pullquote]
20 cooked prawns, peeled and halved lengthways or 200g cooked chicken, sliced
1 red capsicum, sliced
1 carrot, julienned or grated
1 Lebanese cucumber, julienned
2 spring onions, julienned
1 avocado, sliced
2 handfuls bean shoots
1 handful mint leaves, chopped
1 handful coriander, chopped
20 rice paper wrappers
Method
Place noodles in a bowl and cover with boiling water. Allow to soften for 3–5 minutes, rinse with cold water then drain thoroughly.
Line up all prepared ingredients so you can operate an assembly line, and don't forget to add anything. When you are ready to assemble the rolls, lay a damp cloth on the bench (this helps stop the wrappers from sticking).
Fill a shallow dish with warm water. Dip rice paper wrappers one at a time into the water for 15-30 seconds, holding a small part of the wrapper. When soft, place on the damp cloth. Place two prawn halves along the middle of the wrapper. Top with a pinch of cooked noodles, and a couple of slices of capsicum, carrot, cucumber, spring onion and bean shoots. Sprinkle with mint and coriander leaves.
Fold ends in and roll up firmly to enclose filling. Repeat with the remaining rice paper wrappers and fillings. Serve with Vietnamese Dipping Sauce.
They are best made just before you serve, but can be made ahead of time if you cover with a damp tea towel, wrap with plastic wrap and place in the fridge.
---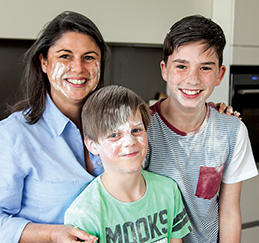 Jodie Blight | We're all busy and want quick, healthy and delicious meals but sometimes just don't have the time. Summer TABLE will inspire you to put variety and zest back into your mealtimes and with a free APP to create a shopping list on your phone, dinner will be ready in no time! And – you learn how to use leftovers in innovative new ways.
After years working as a company director in the finance industry, starting a family and moving half way around the world, Jodie Blight discovered her passion – creating healthy, easy and delicious family meals. "A fist pump from the kids is as good as a Michelin star in my books."
To find out more about this revolutionary cookbook, please visit www.hellotable.com.au or find us on Facebook at www.facebook.com/hellotable