B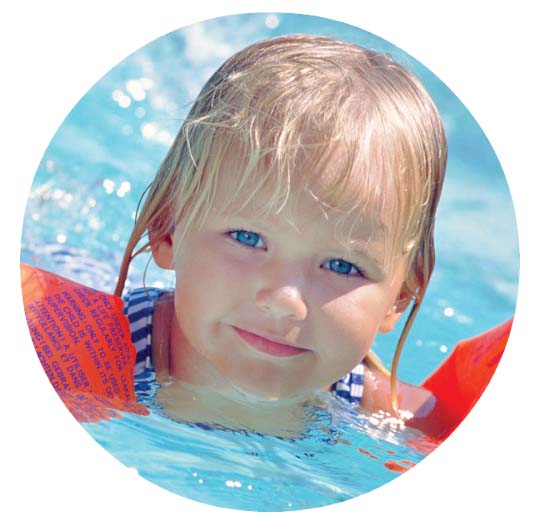 eing around water is part of everyday life in Australia, whether it be at the beach, backyard pools and spas, rivers and creeks, public swimming pools or dams on farms. However, did you know that drowning is one of the major causes of unintentional death for Australian children under 5 years of age?
Toddlers can drown in as little as a few centimetres of water – this means that objects including buckets, inflatable/toddler wading pools, backyard ponds, eskies with melted ice and even pets drinking bowls can all pose a potential drowning hazard.
DROWNING PREVENTION
To help keep children safe in and around water, there are four important steps you can follow; to ensure maximum safety, it's important that all of these steps are used together.
1. Supervise
Active adult supervision of children is essential to reduce the risk of drowning. For toddlers, this mean's having an adult within arm's reach at all times when they are in or around water, while for older children it is important that there is an adult within the water area who is ready to enter the water in an emergency.
When there are a lot of adults around (e.g. at a BBQ or pool party) it can be easy to assume that someone else is watching the kids when, in fact, nobody is. That's why it's a good idea to have designated adult supervisors whose role it is to actively supervise the kids in and around water. This role can be shared throughout the day so that everyone gets a chance to relax and enjoy themselves.
2. Restrict Access
Restricting children's access to water can include placing a barrier around the body of water (e.g. a pool or spa barrier) or placing the barrier around a child's environment (e.g. creating a fenced safe play area on a farm that is away from water hazards like dams and animal drinking troughs).
Children are crafty and will try their best to find a way to get over, under or through barriers, so it's important to never rely on barriers on their own to keep children away from water.
3. Water Awareness
Water awareness and learn-to-swim classes can assist in helping children to become familiar with water, teaching them about water safety, and learning how to swim.
4. CPR/First Aid Knowledge
Having the skills to respond in an emergency situation can mean the difference between life and death. Kidsafe Victoria encourages all parents and carers to enrol in a CPR/first aid course and to update their skills regularly. Hopefully they are skills that you will never have to use, however undertaking a course will assist in ensuring you are equipped to respond if an emergency does arise. It is also a good idea to place a CPR chart in your pool or spa area for easy reference.
---
www.kidsafevic.com.au/water-safety