If you're anything like me, you worried constantly about when your child would start talking, whether they were developing at the correct rate, whether you should seek help, and when. Son #1 started building his vocabulary a few months shy of his second birthday. We're about to celebrate his third birthday and I now have trouble getting a word in. I needn't have worried.
I have also discovered there are a few distinct stages of conversational development. When he first started babbling that wonderful baby talk that nobody can understand except Mum ("Bada-nat goban-dob!" "Yes, dear, of course you can have another sultana!") I cultivated the ability to provide an appropriately interested and encouraging response even when I had absolutely no idea what he was talking about: "Oh, really?" "Well, that is interesting, and what happened next?" "Mm-hmm, that's lovely, sweetheart."
Eventually he learned enough words to voice every thought which went through his active little brain and, around the same time, gave up his day time sleep. I then faced twelve – thirteen hours a day of non-stop chatter, with which I was expected to engage. At this stage, while surreptitiously reading The Age on my smartphone, all I had to do was face his general direction and, with varying tones of voice, alternate between, "Mmm-hmm," "Yes, darling," "That's lovely," and we were both happy.
One afternoon recently I sat down with my brand new copy of the final Sookie Stackhouse novel (boo hoo!) while Son #2 (9 months old) was having a sleep and Son #1 was flicking through a freshly acquired library copy of The Life of Bees. I had just managed to thumb my way through the title pages, acknowledgements and pages of general thanks from the author to find the start of the actual story when Son #1 pipes up with an observation broadly relating to bee bottoms and stings (I think; I wasn't really listening). Impatient to get going on whatever blood lust drama Sookie was going to get caught up in, I replied "Hmm-hmm, that's great honey," without looking up from my book. "No, Mummy, look at me, I talk to you." Huh? What? I looked up with surprise. "Bee sting spider and spider don't like it and spider eat bee. You talk [to] me 'bout that Mummy." Oh, I see, I'm expected to actually be involved in this conversation now.
Like anything else, I have developed strategies to cope with this new stage. When I have had enough of answering in depth questions about life on planet Earth I decide to give adult responses to preschool conversation starters.
Son #1: Mummy, they need have blue 'tanas. My don't want brown ones.
Me: Well, darling, I'm sure they could manage blue sultanas through genetic engineering. We could put together a business plan and pitch it to the Product Development Manager at Sanitarium. However, I suspect the preliminary market research will indicate that there just isn't the mass appeal to justify development, production and marketing costs.
Son #1: Oh.
Speechless. Nice one.
---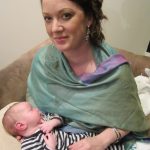 Rebecca Bowyer is a regular blogger with Mornington Peninsula Kids. You can read more of her blogs at Seeing the Lighter Side of Parenting and follow her on Facebook or Twitter