BY: Michelle McCullough
To some people, hosting a playgroup at an aged care home might seem like a strange idea, but for Priscilla Woodward it is completely natural.
The busy Seaford mum hosts Young At Heart, an intergenerational playgroup at the Bupa Aged Care in Bonbeach where local parents and their children can spend time with some of the community's older residents. The fortnightly playgroup gives the home's residents and local families an opportunity to interact through books, music, play and craft activities.
Priscilla, who is mum to 2-year-old Annika, said the playgroup had been a positive experience for everyone involved.
"Parents have said the playgroup has been positive for both themselves and their children. Some residents and their families have also expressed their gratitude for the playgroup, and adore seeing and interacting with the children."
"They [the children] enjoy spending time with the residents doing crafty activities or getting imaginative with toys. My daughter loves sitting on their laps and being read to."
The idea for Young at Heart came from a segment Priscilla saw on Channel Ten's The Project, which featured Bupa Bellarine, an aged care home in Victoria that had established a playgroup in 2006.
"They had a story about an intergenerational playgroup held at an aged care home. The children had such a positive effect on them. Suddenly one of the residents' speech was clearer and she could make sentences. And the children were having a lovely time playing and bonding with the residents."
The story prompted Priscilla to look for a intergenerational playgroup in her area, but unable to find one she decided to start her own.
"[It] really spoke to my heart. Seeing the positive impact it had on the residents and children motivated me to start this group. I am passionate about the concept so I knew it needed to become a reality.
"I contacted the general manager at the closest Bupa aged care home to me who was very keen about the idea. We met and discussed our plan to create it. I asked local mums to help with donating toys and sought volunteers to participate. A Facebook group was created to keep track of which volunteers were coming to the next playgroup and attendance numbers."
Bupa Aged Care Bonbeach general manager Sue Bunworth said she was thrilled when Priscilla approached her with the idea of hosting a playgroup at the facility, which is home to 101 residents.
"[I] instantly loved it, as I was trying to work out how to get a group of mums with babies and toddlers to visit regularly. I have always encouraged children and animals to be a part of the residents' lives, as it is so good to see their faces light up when the babies are around. Bupa encourages all homes to have contact with as many outside groups as possible, as it helps to enhance the quality of life for our residents.
[pullquote]"[It has been] very positive for all. It is also good for the staff; we all have a little giggle at the kids antics.[/pullquote] I love it when I see some of the men interact in such a loving gentle manner with the kids. It is great conversation topics for the residents before and after the sessions.
"Priscilla's commitment and energy has been wonderful. We really appreciate it."
Bupa Bonbeach resident Babs Simm said she looked forward to the playgroup because it reminded of her of when her own children were babies.
"I love to see the little children and how they react and what toys they go for. Sometimes they come in and they are a little shy but then they come around. We had a very little baby here once and everyone wanted to get their hands on her little baby. They would sit her on their lap, it was great."
The 89-year-old great-grandmother said the residents "come alive when they see the children. It sparks the memory of when they were young".
Resident Dawn Waston, who has lived at the home since 2011, agreed that the residents had responded positively to the playgroup.
"It certainly brings some of them out of their rooms. Some of them don't react much to anything but they enjoy seeing the babies. A lot of them have carried babies around with them and to have a real baby to hold is a gift. You see their faces light up when they see them."
The 86-year-old also said that Young at Heart provided a way for older people to pass on their knowledge to younger mums, with some of the mothers attending the group asking for advice.
"We can pass on our experiences and hopefully help them."
Priscilla encouraged others mums to set up their own intergenerational playgroup in their area.
"How wonderful would it be if every aged care home had one."
---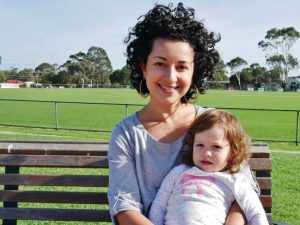 Michelle McCullough is a journalist, mum of two, amateur photographer and when she has time, a meerkat enthusiast. She lives in the eastern suburbs and spends her days trying to find new and fun ways to keep her two little monkeys entertained.