Day of the Dead face painting…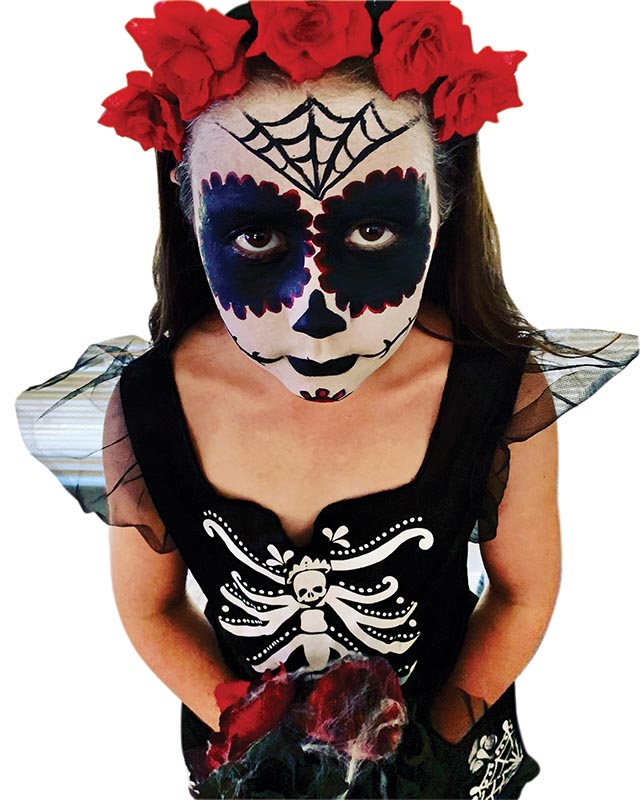 Use a face-painting sponge to cover your face with white face paint. Apply the paint evenly to create a foundation and let it dry.
Dip the sponge in the black face paint and apply black paint around your eyes to create eye sockets. Make them square with rounded edges rather than circular.
Apply a small amount of black paint to a face-painting brush. Paint a triangle with soft edges on your nose to create the skull's nose hole.
Use a skinny brush to draw a design like petals around the eye sockets. Also draw a line from each corner of your mouth across your cheeks, and vertical lines across your mouth.
Use coloured face paint of your choice to fill in the petals around your eyes and if you choose, add any other embellishments such as flowers or spider webbing.
---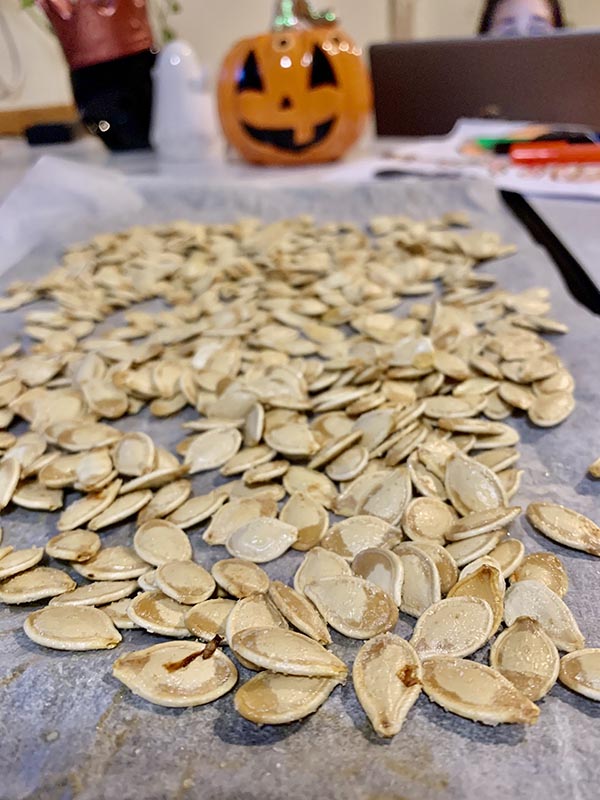 Roasted pumpkin seeds…
Step 1 : Scrape seeds from inside pumpkin, wash and dry well.
Step 2 : Toss seeds in a bowl with olive oil and salt.
Step 3 : Spread the seeds in a single layer on a baking sheet and bake at 150C for about 45 minutes or until golden brown; stir occasionally.
---
How to Carve a Jack 'o Lantern…

1. Make a 'lid'.
Cut out a circle 'lid' on an angle so that it won't drop inside the pumpkin when you put it back on top, like it would with a straight up-and-down cut.
2. Scoop out all the pulp (and then some).
With an ice cream scoop or tablespoon thin the inner wall of the "face" area so it will be easier to pierce the shell.
3. Sketch out your design on paper.
If you draw your jack-o'-lantern face to size you can use it as a pattern: Just tape it to the front of your pumpkin and use a fork or pencil to poke holes along the lines you want to carve.
4. Start by making simple rough cuts.
If you get the big pieces of pumpkin out of the way first, you can go back and clean up the edges of your design later by 'shaving' along the holes you've cut.
5. Keep your pumpkin fresh.
Spreading petroleum jelly on the cut edges to seal in moisture. If your pumpkin still shrivels a few days later, you can revive it with a face down soak in cold water for up to eight hours.
6. Create the glow.
Pop a lit candle inside, or for a safer option, go with battery-operated instead.
TIP: Sprinkle cinnamon inside the lid. When you light the candle, your jack-o'-lantern will smell delicious!
Ghoulie treats…
Peanut Butter Eyeballs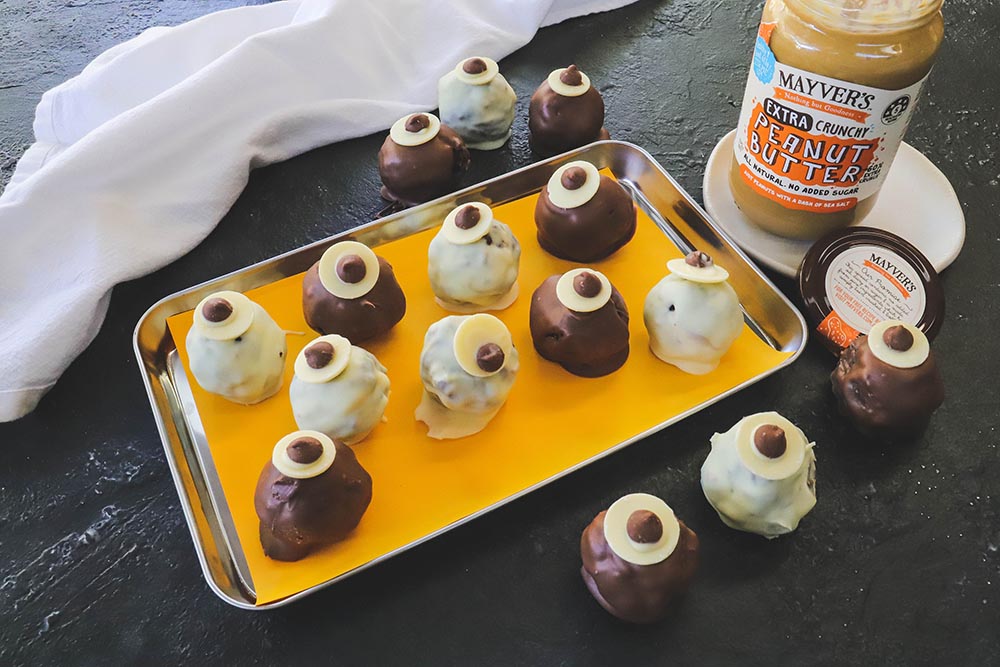 ---
Apple Monsters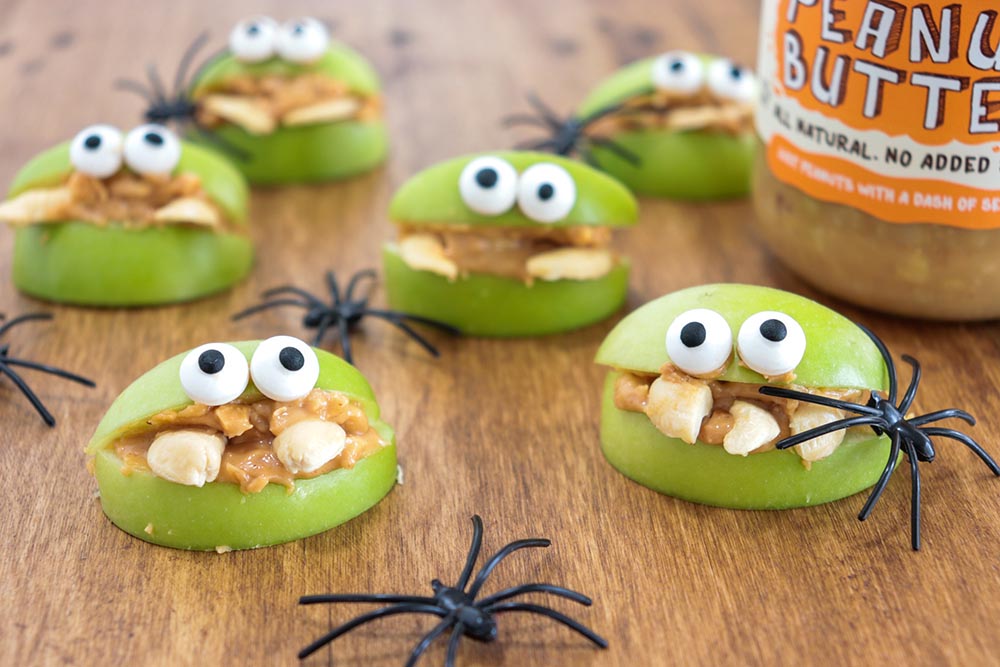 ---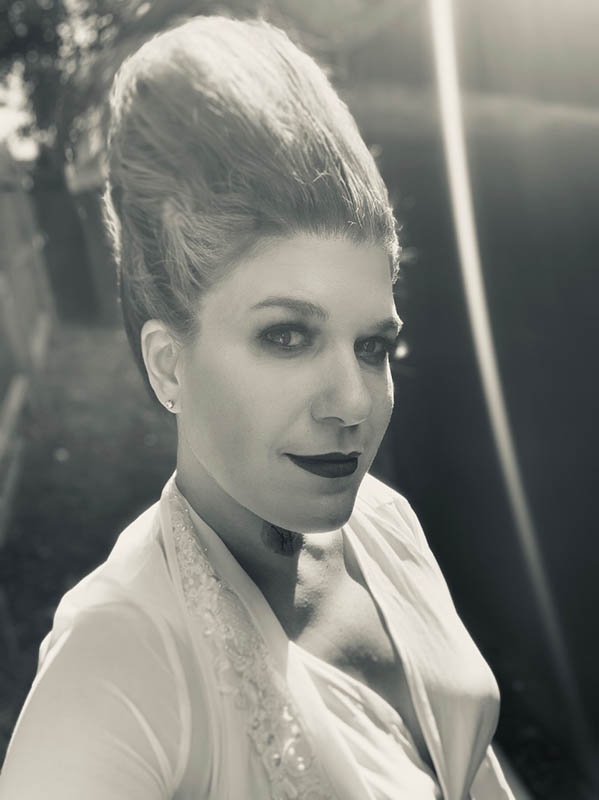 Bride of Frankenstein:
To achieve this look, grab a couple of hair donuts, pins and lots of hair spray!
---