As the health industry has boomed, so has the number of health foods that are available to consumers, but Australians are still suffering from poor diets as a result of eating too many processed foods that are high in salt, saturated fat and sugar . 
Leading dietitian and Mayver's ambassador, Susie Burrell, says this is why teaching our children about healthy eating and lifestyle choices from a young age is so important.
"Habits are developed from a very young age and it's no different with food, so creating an environment at home that encourages healthy discussion around food and its varying nutritional benefits is a great place to start," Susie says.
"To help your family foster a healthy relationship with food from a young age, it helps to never label food as bad or good.
"Instead discuss why some foods might be considered something only to enjoy once or twice a week and highlight the benefits nutritious foods can provide in your children's day-to-day activities, like riding a bike, weekend sports or making sure they'll stay awake during school."
Susie adds that another great way to help teach your children about making nutritional choices is by making it fun.
"Cooking with kids can be a really enjoyable experience and provides a gateway to discuss the nutritional benefits of preparing recipes with fresh, whole foods with your children, while making special memories too."
"It's important not to be too hard on yourself or your children either, sometimes they'll just want to eat that chocolate bar but know that in time they'll eventually grow to appreciate and enjoy eating nutritious foods.
"Whether it's something sweet like Mayver's PB&J Banana Bread muffins or something more savoury like Mayver's Simple Chicken Satay Noodles, cooking at home means you and your family can enjoy learning about and of course eating delicious, nutritious food."
Try some of Mayver's delicious recipes to cook at home with your family like the PB&J Banana Bread Muffins, the Simple Chicken Satay Noodles which is sure to go down a hit with everyone in the family, or Sam Wood's Chocolate Stuffed Peanut Butter Cookies. 
---
PB & J Banana Bread Muffins
Time: 60 minutes | Serves: 6
Gluten Free / Dairy Free / Vegetarian / Sugar Free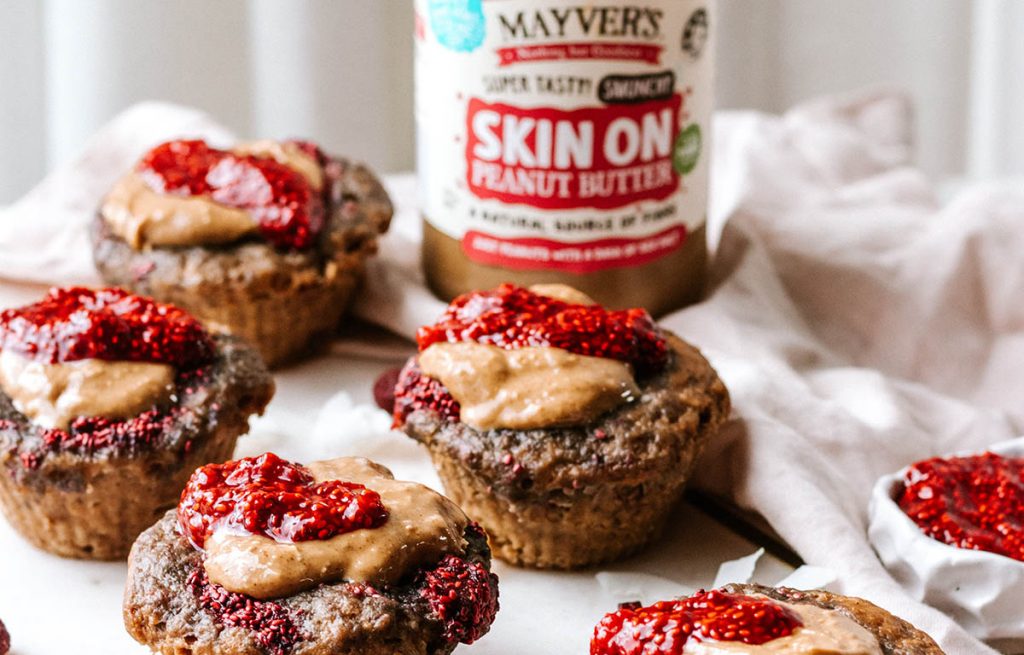 Ingredients
Wet Ingredients:
1 ½ cups ripe smashed bananas 
1/3 cup plant based milk (almond, coconut, soy)
½ cup Mayver's Skin On Peanut Butter
1 flax egg (1.5tbsp flax powder mixed with 3 tbsp water)
Dry Ingredients:
1 ½ cups spelt flour
1 ¼ cups + 2 tbsp coconut/cane sugar
1 tsp baking powder
½ tsp sea salt
¼ cup raspberries (fresh/frozen/dried)
Toppings:
Raspberry chia jam
Extra Mayver's Skin On Peanut Butter 
Method
Preheat oven to 180ºC/380ºF.
Smash the bananas in a bowl until smooth. Add in all the wet ingredients together and stir to combine.
In a separate bowl, mix the dry ingredients together. Add the dry ingredients to the bowl with the wet ingredients and mix to combine.
Fold in the raspberries to the mixture.
Evenly separate mixture into each muffin tin tray and bake muffins in the oven for 45-50 minutes (check to see if ready by poking knife/skewer through the centre and if it comes out clean, its ready).
When finished baking, transfer muffins to cooling rack and let them cool completely to room temperature.
Once cooled, top each muffin with a teaspoon of the raspberry chia jam and extra peanut butter.
This recipe was provided by @growthegrin
Chocolate Stuffed Peanut Butter Cookies
By Sam Wood
Time: 40 minutes (plus 5 hours freezing time) | Serves: 10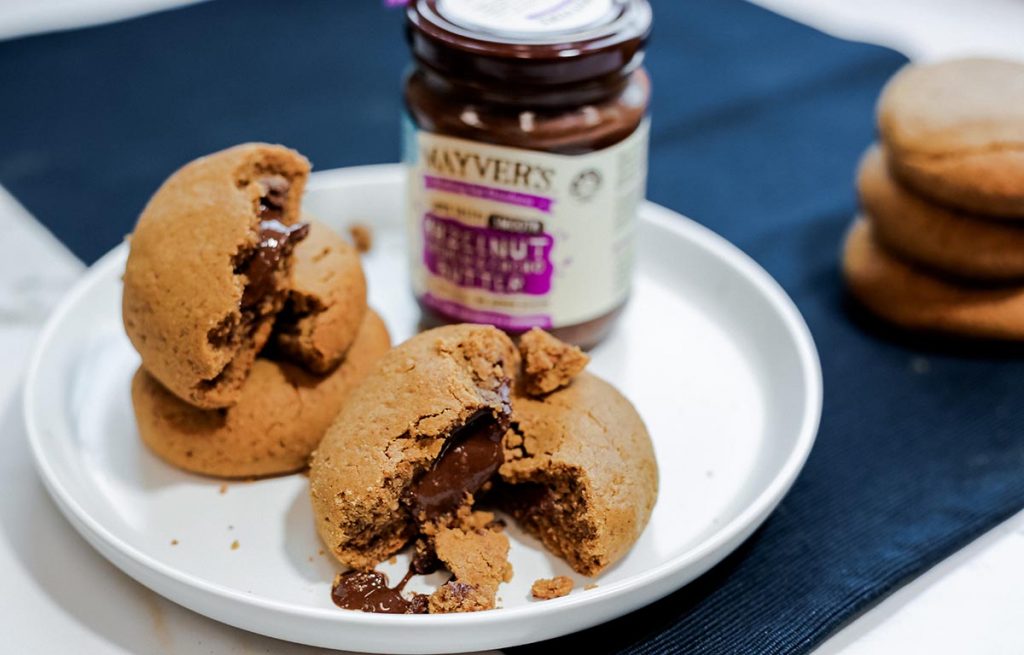 Ingredients
100g Mayver's Hazelnut, Cashew and Cacao Spread 
1/2 cup coconut sugar
100g butter, room temperature
3/4 cup Mayver's Smooth Peanut Butter
1 free-range egg
1 tsp vanilla extract
1.5 cups wholemeal flour
1 tsp baking powder
1 tsp ground cinnamon
Method
In a silicon ice cube mould, add 2 teaspoons of the Hazelnut, Cashew & Cacao Spread to each hole until you have filled 10. Place in the freezer for 5 hours, until hardened.
Preheat the oven to 175 degrees Celsius, on a fan forced setting. Line a baking tray with baking paper.
Add the coconut sugar and butter to a large mixing bowl and use an electric mixer to cream.
 Next, add the peanut butter, egg and vanilla and beat with the electric mixer until combined.
Add the flour, baking powder and cinnamon to the bowl and mix together until a cookie batter is formed.
Roll a heaped tablespoon of the batter into a ball and using your thumb, make an indentation in the centre.
Place one piece of the frozen nut butter into the indentation and enclose.
Roll the cookie into a ball, place on the baking tray and gently press down to flatten.
Repeat with the remaining mixture.
Place the tray in the oven to cook for 15-17 minutes, until golden.
Remove from the oven and enjoy.